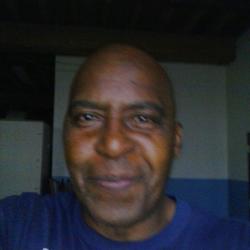 Hayward John Fisher, Jr., 60 of Crisfield, Maryland departed this life on Sunday, December 7, 2014 at Perry Point VA Medical Center in Perry Point, Maryland.  Hayward was born February 23, 1954.  He was the son of the late Hayward John Fisher, Sr. and Clara Mae Green-Fisher.
Hayward was educated in Somerset County Public Schools and graduated from Crisfield High School in 1972.  He joined the United States Army and served six years and was honorably discharged.
Hayward, also affectionately known as "Fish", "Fish Man" and "Hayward June" to his family and friends.  Hayward's family and friend's best remembered him for his humor, smile, kind spirit and his exceptional ability to make others laugh.  Hayward was a very loving man and had a unique gift of talking his way into and out of situations.  He cherished his family and his close friends.  At a young age it was obvious he was quite a charmer and his great humor was the sunshine of his soul.
Hayward leaves to cherish fond memories with his devoted companion Julia Hinton; four daughters, Rachan Bishop-Smith (Michael), Tara Zollicoffer (Derrick), Michelle Fisher and Nichole Fisher; six grandchildren, Arror, Kyra, Zion, Nia, Chyna and Amaree; one brother, James Green; four sisters, Annie Fontaine (Clarence), Rita Harmon, Jacquelyn Fisher and Angel Handy; one aunt, Mildred Green; a host of nephews, nieces, cousins and friends.
A funeral service will be held 1 PM Saturday, December 20, 2014 at Highway Holiness Church in Crisfied with a viewing one hour prior. Rev. Cornelius Lane will be the Eulogist.  A viewing will also be held 6:00 PM – 8:00 PM Friday, December 19, 2014 at Anthony E. Ward, Jr. Funeral Home in Crisfield. Interment will be held 1:00 PM Monday, December 22, 2014 at Eastern Shore Veterans Cemetery in Hurlock, Maryland.
2 Responses to "Hayward J. Fisher, Jr."
Share a Memory or Thought