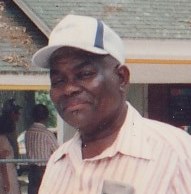 Oliver J. "Bogash" Jones, Sr. the son of the late Oliver Jones and Henrietta Fontaine-Jones gently closed his eyes and without a word bid farewell to this earthly world on Wednesday, December 10, 2014, at Aurora Senior Living of Manokin in Princess, Maryland.
 "Bogash" as he was called by his family and friendswas educated in the public school system in Somerset County.  He retired from Hudson Food after 35 years of service.  You could find him watching western, baseball, cutting grass and feeding his humming birds.
"Bogash"was a member of Mount Hope A.M.E Zion Church in Princess Anne, Maryland, and joined under the leadership of Rev. Michael Audrey.
He is survived by his loving wife of 60 years Lucille Jones; one son, Walter Jones (Christine) of Princess Anne; eleven grandchildren, Tamika, Tawana, Travis, D'Janelle, Demond, DeAndre, Natika, Olivia, Shelita, Tara and Sherrell;  nineteen great grandchildren; five great-great grandchildren; one aunt, Georgia Baker; five sister-in-laws, Lottie Moses, Ida Polk, Rita Polk, Jennie (Percy) Chase and Cynthia Polk; one brother-in-law, David (Joyce) Polk, Sr. and host of nieces, nephews and other relatives and friends.
In addition to his parents he was preceded in death by two sons Oliver "Bogash", Jr. and Lester "Dempsy" Jones; one grandson, Michael Dennis, Jr. and one brother, Lester Jones.
A funeral service will be held 11 a.m Saturday, December 20, 2014 at Mount Hope A.M.E. Zion Church in Princess Anne with a viewing one hour prior. Rev. Leon Copeland will be the eulogist. A viewing will also be held 6-8 p.m. Friday, December 19, 2014 at the church. Interment will in the church cemetery.
One Response to "Oliver J."Bogash" Jones, Sr."
Share a Memory or Thought