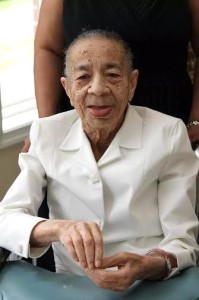 Ida Mae Polk was born on March 12, 1934 in Princess Anne, Maryland to the late Raymond and Hettie Polk.  Ida departed this life on Wednesday, December 17, 2014 at Aurora Senior Living of Manokin.
"Baby" as she was affectionately known by family and friends was educated in the Somerset County Public School System.  She was employed by several local establishments in Princess Anne as a cook such as,  Campus Corner, Shore Stop, Pizza Plus and Brown Derby to name a few.
Ida was affectionate an loving person who always kept the family laughing. She would do things and then turn her head like she didn't know what was going on. Her favorite song was Sweet Hour of Prayer, which was the only song she could play on the key board.
Ida leaves to cherish fond memories one son; Marion "Mickey" Polk (Debbie) and one daughter, Pastor Pamela A. Polk-Ward (Warren) both of Princess Anne, Maryland; seven grandchildren, Stacy Grant, Clifton Polk, Shaun Polk, Antonio Ramcharan, Andre Fisher, Trey Wise and Maddyson Ward; five great-grand children, Shamar Grant, Makayla Polk, Destiny Polk, Deshaun Polk and Sa'Myah Grant; four sisters, Lucille Jones, Lottie Moses, Rita Polk and Jennie Chase (Percy); one brother, David Polk (Joyce) all of Princess Anne; one sister-in-law, Cynthia Polk and a host of nieces, nephews other relatives and friends.
Along with her parents she was preceded in death by one son, Tyrone "Nooky" Polk.; eleven siblings, Raymond Polk, Jr., Walter Polk, Earl Polk, Ephriam Polk, Clifton Polk, Glenmore Cannon, Charles Polk, Irving Polk, Sr., Bessie Ballard, Beatrice Polk and Bernice Stevenson.
A funeral service will be held 1 PM Saturday, December 27, 2014 at St. Mary's Missionary Baptist Church with a viewing one hour prior. Pastor David Allen W. Miles will be the Eulogist. A viewing will also be held 1-6 PM Friday, December 26, 2014 at the funeral home in Princess Anne. Interment will in the church cemetery.
2 Responses to "Ida Mae Polk"