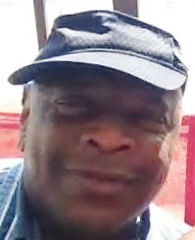 Brian Thomas "Cornbread" White, 57, of Princess Anne, Maryland formerly of  Venton, Maryland departed this life on  Tuesday, December 30 2014 at his residence. Born December 26,1957, he was the son of the late Archie Doane and Annie White.
Brian attended Washington High School in Princess Anne, and was employed for 14 years at the former Campbell Soup Company in Salisbury. He attended the former Grace United Methodist Church in Venton at an early age. Since then he also attended many churches in Princess Anne as well as Salisbury.
He leaves to cherish precious memories with two sons, Andre Labrian White, Sr. and Brian Maurice White both of Lincoln, Delaware; one grandson, Andre Labrian White, Jr. also of Lincoln; one sister, Margaret Ann Coleman( Leon) of Houston, Texas; two brothers, Kenneth and Eric White of Princess Anne; three nephews, Jonathon Coleman of Monaca, Pennsylvania, William Coleman of Houston, Texas, and Kenneth White, Jr. of Hagerstown, Maryland; five nieces, Valerie Parris (Teddy) of York, Pennsylvania, Denise Coleman of Sacramento, California, Opal White of North Carolina, Yamika White of Hagerstown, and She'cquan Bailey of Baltimore; one great,  nephew Joshua Byrd; six uncles, Edgar White, Sr. of Newark, Delaware, Sherwood White (Bernetta), Louis White (Alise) and Jerry White, all of Salisbury, Larry White of Princess Anne and Alfonso White of Georgia; six aunts, Geraldine Deshields (Jimmy) and Karen White of Princess Anne, Gloria Wessells (Kenneth), Annette White, Nancy Turner (Joseph) of Salisbury, and Janice White of Baltimore; three play sons, Boo Boo, Toot and Dirty, all of Princess Anne and a host of cousins and friends.    He also leaves to cherish fond memories with his longtime sweetheart Jollyette Hayward. Brian was preceded in death by one brother, Calvin Dennis.
A funeral service will be held 2 p.m. Saturday, January 17, 2015 at Anthony E. Ward, Jr. Funeral Home in Princess Anne with a viewing one hour prior.
Share a Memory or Thought