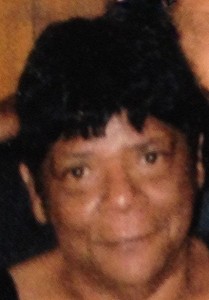 Billie Faye Brown, loving known as "Hannah",78, was born May 2, 1936 in Crisfield Maryland to the late Garfield Sr. and Merley Sutton. After a long illness she quietly slipped away at the Alice Byrd Tawes Nursing Home on Monday, January 19, 2015.
Hannah was educated in the Somerset County Public School. She lived most of her life in the Crisfield area where she was employed at Sherwin Williams Company. in Crisfield for 25 years.
Hannah was a very vibrant and loving mother, grandmother and friend. After her retirement she loved spending time reading all kinds of novels and books. She loved having discussions about what she read and the wayshe would tell the story sounded like it was made for television or a movie.  Her  all time favorite thing to do was to sit on her front porch and watch everyone pass by either walking or in their car no one could get by her without striking up a conversation.  She adored her grandchildren and great grand's and loved coloring, playing board games or whatever they wanted to do, if she could do it for them she did it.
Han was the kind of person that people loved to be around, no matter the age difference they just loved being in her presence. She took time to listen to what you had to say, and it didn't matter whether you were right or wrong she would not hesitate to let you know just what she thought.
Once her health failed she relocated to the Alice Byrd Tawes Nursing Home where the staff there soon became her extended family. Han fell in love with all those who were entrusted with her care. She spent her days just like she did when she was at home on Chesapeake Avenue, sitting in her chair and watching everybody walk by.  She patiently waited on Lynn to bring her favorite Chinese food. Then Gina her "Boss" would walk in and that would certainly brighten her day.
With the love, support and ministry of her St. Paul Church family she came to know our Lord and Savior Jesus Christ. Rev. McDaniel's and Rev. Battle took the time to make sure she received Holy Communion the first week of each month. God placed these people in Han's life to remind her that her spiritual life was of the upmost importance. She was always surrounded by her children, grandchildren and great grandchild whom she absolutely loved with all heart.
She leaves to cherish her loving memory:  four daughters, Nora Lynn and Gina Brown, both of Crisfield, Candace Speed (Jason) of Allen Hurst, GA, Sheila King (Michael) of Salisbury, MD; two sons, Donald Brown, Jr. (Cynthia) of Newport News, VA and Keith Brown (Hope) of Baltimore, MD; one sister, Bobby White of Prince George, VA; 16 grandchildren and 12 great grandchild; and a host of nephews, nieces and friends.
In a addition to her parents, she was preceded in death by one son, Ricky Brown; four brothers, Garfield Jr., Archie, Oliver and Roland Sutton; and four sisters, Jimmie Sutton, Bessie Wilson, Audrey Perrigan and Lillie Sterling.
A funeral service will be held 11 a.m. Saturday, January 24, 2015 at St. Paul A.M.E. Church in Crisfield with a viewing one hour prior. Rev. Betty Smith will be the Eulogist. A viewing will also be held 6-8 Friday, January 23, 2015 at the church. Interment will be held at Union Asbury Cemetery in Crisfield.
Share a Memory or Thought