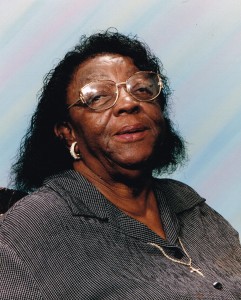 Lucy Miles Blue, departed this life on January 28, 2015 after a courageous fight with a lengthy illness. Lucy was born July 28, 1931 to the late Raleigh and Irene Paige in Norfolk VA.
Lucy was educated in the Somerset County Public School System. Lucy joined Shiloh United Methodist Church in 1959 and was a devoted member.  Lucy served as a communion stewardess and was a member of the Kitchen Committee for many years. Lucy was also a member of The Progressive Social Club.
Lucy was married to Charles Miles for many years. After his death she later married Zebedee Blue Jr.  Lucy was employed at the Milbourne Crab Company for many, many years. After leaving the seafood industry Lucy was employed as a custodian for the Crisfield Elementary School #1. Lucy was also a loving home caregiver for many years.
Anyone that came in contact with Lucy grew to love her. Lucy would have you rolling in stitches with her dry sense of humor. Lucy was known as the local family historian. She could tell you who was related to whom down to the 25th cousin twice removed.  Lucy was quite a strong and compassionate person. She would open her home and kitchen to all. She never turned down anyone who was hungry. Lucy instilled strong Christian values and strong work ethics to her family.  Lucy was a communicator; she loved talking on the phone to her best friend Miss Emily Taylor and all of her close associates, her children and grandchildren on a daily basis.
Lucy leaves to cherish fond memories with:  two daughters, Gloria Boon of Norristown, PA and Lucy Ames of Millersville, MD; four grandchildren, Tanyous F. Boone of Norristown, PA, Adrienne M. Ames of Millsboro, DE, Tiffany D. Peyton of Middle River, MD and Brandy M. Ames-Graham of Laurel, MD; seven great-grandchildren, David Hopkins (Denisha), Brandon Ames, Thomas Peyton, Jr., Brandon Peyton, Destiney Peyton, Autumn Ames and  Cali Graham; two great great grandchildren, Dazhaum and Drew Hopkins;  three stepchildren, Carolyn Payton (Bruce), Geraldine Miles of Wilmington, DE and a devoted stepson, Michael Miles (Sherry) of Chestertown, MD; a devoted friend, David Glenwood Ewell; two special nieces, Mary Paige and Margaret Paige-Bacon; two nephews, Allen Paige and Ronald Paige; one great nephew, Marquette Paige and a host of other family members and friends. In addition to her parents, she was preceded in death by two husbands, Charles Miles and Zebedee Blue; six children, Clifford, Mary, Diane, Charles, Raleigh and Orville; a stepdaughter, Shirley Fontaine; two sisters, Maggie Paige, and Mary Paige-Smith.
A funeral service will be held 11 a.m. Saturday, February 7, 2015 at Shiloh United Methodist Church with a viewing one hour prior. Reverend Frances Fitchett will be the Eulogist. Interment will be in Union Asbury Church Cemetery.
Share a Memory or Thought