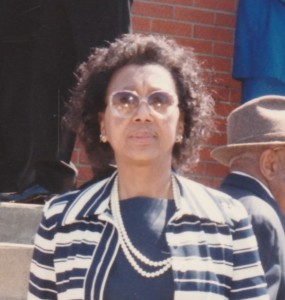 Mainnie Bell, 92 of Brentwood, New York formerly of Crisfield, departed this life Sunday,  April 12, 2015 at Hospice Hill in Melville, New York. Born June 2, 1922 she was the daughter of the late Albert and Mary Ethel Maddox-Bell.
Mannie Bell worked at the Northport VA Hospital as a food service worker for 30 years. She was a member of the Bethel A.M.E. Church of Huntington where she met and became long time friends with Mrs. Carrie Adams and they both later transferred to Durham A.M.E. Zion Church.
Mannie Bell was a member of the then Durham A.M.E. Zion Senior Choir and she as willing to do anything that was asked of her. She would always be down in the kitchen helping out. She loved to sing and one of her favorite songs to sing was "The Battle Hymn of the Republic". She loved the old hymns and when she felt the spirit she would get out of her seat and walk the aisle and wave her handkerchief.
She was a very proud an independent woman. She was very a kind, loving, soft spoken woman and loved children but never had any of her own, but with her nurturing spirit you felt like she as your mother. She didn't say much and she didn't stand for any foolishness and she spoke what was on her mind. She was of great wisdom and she loved the Lord.
She leaves to mourn, three nieces and two cousins from Maryland; her closest friends Carrie Adams of Florida, Jessie Durham of North Carolina and Mae Horton of New York; and a host of other friends, church members and neighbors.
A memorial service will be held 7 p.m.  April 17, 2015 at Durham A.M.E. Zion Church in New York. Interment will be private.
One Response to "Mainnie Bell"
Share a Memory or Thought