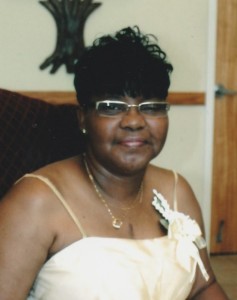 Rita Hayworth Frances Harmon was born August 10, 1949 to the late Hayward John Fisher Sr., and Clara Mae Green Fisher. She departed this life to be with the Lord on Tuesday, April 14, 2015 at Edward W. Memorial Hospital in Crisfield, MD.
Rita affectionately known as "Reet" was educated in Somerset County Public School System graduating in 1968. She was employed in the Seafood Industry and later found employment as a Administrative Assistant with Sherwin-Williams Company (Rubberset) for 36 years.
Rita accepted the lord in her life at an early age. She was a faithful member at Shiloh United Methodist Church where she served as an Usher and on the Finance Committee until her health started to fail.  Reet had a loving, kind and gentle spirit. She enjoyed family time, weekly outings with her sister Jack and most importantly her children. She would talk on the phone to three special friends Ranford Williams, Beatrice Lawson and Deborah Conaway every morning.  Reet enjoyed cooking and trying new recipes.  Her specialty was any seafood dish and her green pepper dip. She would watch the court cases and tune into the UMES Gospel Station before her sight started to fail. Despite her health adversities, she remained humble and still had a smile on her face.
Rita leaves to cherish her memories: one daughter, Felisha Sutton (Jody) of Crisfield, MD; one son,  Ellsworth Bacon Jr. (Katrina) of White Plains, MD; three grandchildren,  Daren Milbourne,  Jr. of Winston-Salem, NC, Shakira and Ricko Miles, both of Crisfield, MD; two great-grandchildren,  Ka'Brayah Bourckel and Kamdyn Miles, both of Crisfield, MD; three sisters, Annie Fontaine (Clarence) of Goldsboro, NC, Jacquelyn Fisher of Crisfield, MD and Angel Handy of Salisbury, MD; one brother, James Green of Florida and a host of nephews, nieces, cousins, and friends.
She was preceded in death by one sister, Bernetta, one brother, Hayward John Fisher, Jr.
A funeral service will be 1 p.m. Saturday, April 26, 2015 at Shiloh United Methodist Church in Crisfield with a viewing two hours prior. Reverend Frances Fitchett will be the Eulogist. Interment will be held in Mount Peer Cemetery in Marion Station.
2 Responses to "Rita H. Harmon"
Share a Memory or Thought