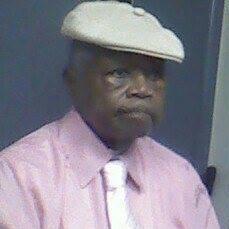 Thomas Henry Ward, Sr. of Crisfield, Maryland was born November 28, 1929 to the late Amanda Merrill-Ward and Raymond Miles; he dedicated his life to the Lord several years ago.  On Wednesday, April 22, 2015 he took God's hand and entered into eternity at Salisbury Rehabilitation and Nursing Center, Salisbury, Maryland in the company of loved ones. He died as he lived with grace, dignity, peacefully and quietly.
He was affectionately called "Tom", "Daddy" and "Pop-Pop" by family and friends and was educated in the Somerset County School System. He later enlisted and served in the United States Army were he served in the Korean War (1951-1953) and received an Occupational Medal (Japan). Tom was later joined in Holy Matrimony to Martha Veney-Ward on October 30, 1991.
Tom was a very kind, loving and hardworking father, husband and man who was revered and loved by anyone he came in contact with. He worked in the Seafood Industry in Crisfield, Maryland. He also worked for Pusey's Groceries and often talked about how much he loved working there. He was so proud of his grandchildren and would grin when introducing them to others. Tom was an avid traveler, reader and loved to watch Monday night Wrestling and Westerns. He enjoyed attending church with James "Jimmy" Whittington at John Wesley Methodist Church in Westover; Living Hope Ministries and St. Paul Church in Crisfield with his wife,  Martha Ward; and My Father's House in Princess Anne with his daughter, Fayetta Corbin. He could often be heard singing, There's A Bright Side Somewhere".
Tom leaves to cherish fond memories, a wife, Martha Veney-Ward of Crisfield; a sister Marguerite Miles Young(Melvin) of Crisfield; five daughters Fayetta Corbin of Princess Anne, Earnestine Corbin(Jimmy) of Wilmington, Sharon Stratton(Stephen) of Melfa, Angenette Stewart of Crisfield and Portia Cottman(Manwell) of Salsibury; three sons, Alfred Corbin(Caselenda), of Crisfield ,Wallace Ward(Yvonne) of Salisbury, Alphonzo Stewart of Princess Anne; two stepons, Brian Veney(Shawanda) of Princess Anne, Eric Veney(Teina) of Glen Burnie; twenty-four grandchildren; thirty-six great grandchildren; three great-great-great grandchildren, seven step grandchildren; three step great grandchildren; a brother-in-law, Richard Maddox(Lucille), and a host of nephews, nieces, cousins and friends.
Tom was preceded in death by his parents, Amanda Merrill-Ward, Raymond Miles and sons, Alfred Stewart, Waldo Ward and Thomas Ward, Jr.; one brother, George Ward; one grandson, Alphonzo T. Stewart, and a number of aunts and uncles.
A funeral service will be held 3 p.m. Saturday May 2, 2015 at Highway Holiness Church in Crisfield with a viewing two hours prior. A viewing will also be held 6 to 8 p.m. Friday, May 1, 2015 at the church, where ceremonial rites will be performed by Crisfield Pride Elks Lodge #194 at 7 p.m. Interment will be held 1 p.m. Tuesday, May 5, 2015 at the Eastern Shore Veterans Cemetery in Hurlock.
4 Responses to "Thomas H. Ward, Sr."