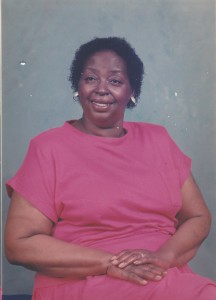 Arretta B. "Rett" Ward, 73, of Marion Station formerly of Crisfield, transitioned to her heavenly father on Friday, April 24, 2015 at McCready Hospital in Crisfield. Born September 4, 1941, she was the daughter of the late William Ward and Annie Mae Brown-Whittington.
She was married to James Edward Ward for 35 years and his soul mate for the last 56 years. Though she had no biological children she reared and took care of Flora Leatherbury (Annette) as her own daughter.
"Rett" as she was fondly known, was educated in Somerset County Public Schools, she worked for Sherwin Williams, Somerset County School and in the Seafood Industry. Out of all her jobs she really enjoyed picking crabs (plucking in her voice); she rarely missed a day of work.
Arretta was a devoted member of St. Paul A.M.E. Church in Crisfield, Maryland. She was member of the Senior Choir and the Kingdom Voices; she was an Usher for many years. She loved to sing and had a very distinct voice. She had many favorite gospel songs, but the ones that she was often asked to sing was "Ride Out Your Storm", "Just the Two of Us" and "One More Day".
Even through her physical disability she never asked God to remove her mountains just to give her enough strength to climb them. She will always be remembered for her wit and jolly personality.
She is survived by her husband of 56 years, James E. Ward; three sisters, Patricia and Leah Brown and Roberta Whittington; three children, Jimmie Faye Miles, Arnold Miles, and William Palmer; seven grandchildren; three special nieces, Flora Leatherbury, Sheila and Vanessa Brown and other nieces Tamela Gerald, Sakena Whittington and Tynesia Brown; her nephew, Deon Brown; five brother-in-laws and eight sister-in-laws, a very special friend Mrs. Vera Sutton, and a host of other nieces, nephews and other relatives and friends.
In addition to her parents she was preceded in death by two brothers, Allen Milbourne, Jr. and John Henry Whittington; one nephew, Javon Brown; her step-father, Calvin Whittington and her mother-in-law, Mrs. Cora Ward.
A funeral service will be held 1 p.m. Wednesday, May 6, 2015 at St. Paul A.M.E. Church in Crisfield with a viewing two hours prior. Reverend Alan Gould will be the Eulogist and Pastor Betty Smith will officiate. A viewing will also be held 6 to 8 p.m. Tuesday, May 5, 2015 at the church. Interment will be held 1 p.m. Thursday, May 7, 2015 at the Eastern Shore Veterans Cemetery in Hurlock.
Share a Memory or Thought