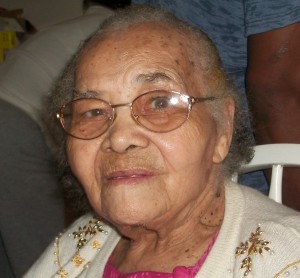 Elderess Carrie Thelma Jones, 96 of Salisbury, Maryland departed this life on Wednesday, May 6, 2015 at her residence surrounded by her family. She was born on July 3, 1918 in Emporia, Virginia to the late Ed and Mary Mason Ivey.
She was a faithful member of The Supreme Council of the House of  Jacob, Inc. Her favorite sermon was "O God My Heart Is Fixed" and her favorite song was "For He Has Set Us Free". She was a member of the District Choir where she loved to play the harmonica. She was also a member of Salisbury Spiritual Tones and The Young At Heart choir. In 2010, she received her certificate from Bible School from The Supreme Council of The House of Jacob. She loved her Overseers, Pastors and her church. She was called momma by her children and was affectionately known as Aunt Thelma by all of her nephews, nieces, and others. She loved everyone and never said a harsh word.
She was married to the late Deacon Frizell Jones for 53 years and to this union were born, six children, Deaconess Carolyn Whittington, William Jones (Carrie), Lena Ramirez (Louis), Jerome Jones, Sr. (Priscena), Wilbert Jones and Elizabeth Anne Curtis (Wendell). She had 19 grandchildren, 34 great grandchildren and 18 great-great grandchildren, one sister-in- law, Mother Ruth Jones; a host of nephews, nieces, cousins, other relatives and friends.
She was preceded in death by her husband, Deacon Frizell Jones; her parents, three grandchildren, Lamont Jones, Sister Marquita Smith and Jermar Smith; her siblings, Louis Ivey, Viola Jefferson, Mable Lundy and Evelyn Lucy Miller; five sisters-in-law, Mother Myrtle Morris, Mother Evelyn Austin,  Mother Elizabeth Jones, Elderess Annie Jones, Sister Doris Holmes, and three brothers-in-law, Advanced Presiding Elder Percy Jones, Elder Elmer Jones, Sr. and Brother Milton Jones.
A funeral service will be held 11 a.m. Wednesday May 13, 2015, at The Supreme Council of the House of Jacob in Princess Anne with a viewing one hour prior. Advanced Presiding Elder Leon Burks will be the Eulogist. A public viewing will also be held 1 to 6 p.m. Tuesday, at Anthony E. Ward, Jr. Funeral Home in Princess Anne.  Interment will be in the church cemetery.
One Response to "Elderess Carrie Thelma Jones"