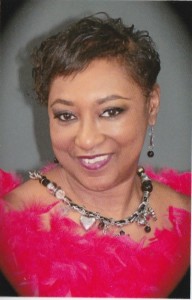 On Sunday, May 10, 2015, Alice Marie Marshall (Dooley) transitioned from this earthly life to her heavenly home to rest eternally with our Lord and Savior.  Born on October 4, 1960 to Clinton Marshall Sr. and the late Elizabeth Frances Johnson-Marshall, she grew up in Marion Station, Maryland. After graduating from Pocomoke High School in Pocomoke City, Maryland in 1978, Alice attended Woodbridge Business Institute in Woodbridge, Delaware where she received her Associates Degree.
To know Alice well was to love her unconditionally.  She was known for her outgoing personality, outrageous sense of humor and her signature laugh. Alice embraced life whole-heartedly and no matter what she was involved in, she gave it her all.  Whether it was looking out for the welfare of her children or bending over backwards to show her love for her grandchildren or unselfishly taking over the care of her father after the passing of her mother, Alice was a beacon of hope and inspiration to all.
Alice embraced her spiritual walk with the Lord with the same passion.  After being saved, baptized and becoming a member of the Mount Carmel Baptist Church family in April 2010, she stepped out on faith and joined the Usher's Ministry.  Still wanting to do more in her service to the Lord, Alice became a member of the Women of Praise so she could sing to the glory of God.  Her family noticed a difference in her as she grew stronger in the Lord and it could be characterized by the songwriter who penned "Changed"– "He changed my life and now I'm free… He changed my life complete and now I sit, I sit at his feet.  To do what must be done I'll work and work until He comes… I'm not what I want to be Oh I'm not what I used to be… A wonderful change has come over me."
Remaining to cherish precious and treasured memories are: one son, Richard Belote Jr. of Pocomoke, MD; three daughters, Darnette Marshall-Brittingham, Dynette Marshall, both of Upper Marlboro, MD and Latoria Hemmeain-Marshall  of Salisbury, MD; one son-in-law, Derrick Marshall of Salisbury, MD; a devoted fiancé, Robert Jones of Salisbury, MD; ten grandchildren, Richard Belote III, Elizabeth Belote, Brea Brittingham, Marissa Belote, De'Kerra Marshall, Tremaine Belote, Alaya Brittingham, De'Kayla Marshall, Nathaniel Belote and Derrick Marshall, Jr.; six brothers, Clinton Marshall Jr., David Marshall and Bruce Marshall, all of Pocomoke, MD; Ronnie Marshall of Augusta, GA, Michael Riley and Brent Dallas  of Salisbury, MD; two sisters, Valeria Harmon of Pocomoke, MD and Michelle Dallas of Upper Marlboro, MD; one brother-in-law, Ernest Harmon Sr.; one sister-in-law, Juanitra Dallas; four aunts, Vonzella Turner, Reverend Doradean Johnson, Betty Johnson-Taylor and Sarah Marshall;  four uncles, Leon Johnson (Mae), Rufus  Johnson (Clara), Roger Johnson (Jometa) and Noah Johnson (Nina) and a host of nieces, nephews, relatives and friends.
In addition to her mother, she was preceded in death by one brother,  Larry Marshall and one grandson, Dylan Marshall.
A funeral service will be held 11 a.m. Saturday, May 16, 2015 at Mount Carmel Baptist Church with a viewing one hour prior. Pastor Carroll Mills will be the Eulogist. A viewing will also be held 6 to 8 p.m. Friday,  May 15, 2015 at the church. Interment will be held in Mount Peer Cemetery in Marion Station.
4 Responses to "Alice Marie Marshall"