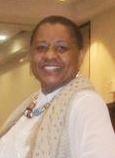 Dorothy Holden-Merritt, 53 of Seaford, Delaware, formerly of Crisfield, Maryland departed this life Saturday, May 16, 2015 at McCready Hospital in Crisfield. Born December 8, 1961 she was the daughter of Pastor Dorothy M. Holden and the late Frederick Holden.
"Dimp", as she was affectionately known, graduated from Crisfield High School in 1980. She attended the University of Maryland Eastern Shore and Delmarva Beauty Academy. She was the owner operator of Healthy Hair Clinique in Seaford, and was an Instructor of Cosmetology at Parkside High School in Salisbury.
As a skilled cosmetologist and educator of her profession, one could quickly observe she enjoyed being around people. Within her presence the heaviest of hearts could laugh, the saddest faces would smile and an uneasy mind could be calmed with her advice. She would let you know the truth and would often say, "I never leave my thoughts to the imagination". If you asked, she was willing to share. She never failed to encourage others to reach for their goals or promote them from producing their best work every time. For that is what "Ms. Dorothy", "Dimp" exhibited with her unique fashion style, and in the hair styles of every client. She was a hard working woman and those who grew to share in her love of cosmetology, would develop such a quality. She believed and proved all hair could be restored to its healthy state and she was committed to promoting the natural hair beauty of others. As an amazing teacher, wonderful rode model, a well trusted stylist, classy educator she had much to offer those she came in contact with. She had a heart to give and never hesitated to offer or assist those in need; she kept her word!
"Dimp" is survived by her devoted husband, John "Al" Merritt; three sons, Sean Steward (Tamika), Ernest Ross (Brittney) and Tyriek Merritt; two daughters, Ericka Merritt and Lisa Merritt; her mother, Pastor Dorothy M. Holden; grandchildren, Cameron Ka'Ron Churchill, Brooklyn Merritt, Mari Bordley, Jayuan Wiggins, Sanai, Holden and Tatum Steward, Julian, Carter, Ta'Lia, Ta'niyah, and Ra'Mani Ross; one brother, Oliver Sutton; one sister, Helen Murray; one aunt, Geraldine Jackson; a special cousin, Howard Ward, Sr.; two nephews, Omar Sutton and Devin Murray; two nieces, Ayanna Sutton and Kamiza Sutton and a host of other relatives and friends.
In addition to her father, she was preceded in death by one nephew, Darin Murray.
A memorial service will be held 12 noon, Saturday, May 23, 2015 at Parkside High School in Salisbury, Maryland.
5 Responses to "Dorothy Holden-Merritt"