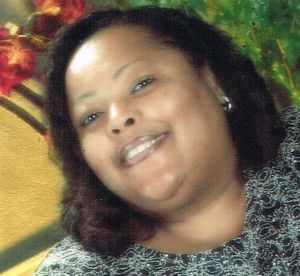 Michelle Antoinette Smith Hunter, a beloved daughter, was born to the late James Smith, Sr. and Lovan M. Smith on August 23, 1968 in Somerset County.  She transitioned from this life to eternal life on January 22, 2016 at the St. Agnes Hospital in Baltimore, Maryland, when God in His infinite wisdom and sweet compassion, softly whispered "Come Home…"
She received her formal education in the Somerset County Public School Systems and was a graduate in the Class of 1986 from Washington High School in Princess Anne, Maryland. Michelle accepted Christ at an early age and was baptized at Metropolitan United Methodist Church in Princess Anne, where she served on several ministries.  Later in life, she joined the Royal Light Missionary Baptist Church in Baltimore.  There she continued her walk with the Lord.  She had an unwavering faith in God, and loved to sing the songs of Zion.  One song she sang often was "Tomorrow" which leaves us with a message, (if she could speak) don't wait until tomorrow, it might be too late.  Give your life to Christ today.
She was employed by Erickson Living Retirement Communities in Baltimore for 16 years as its Business Office Manager.  Michelle was a detail oriented person and loved the challenge of her work.  She was a genuinely happy person who enjoyed the company of family and also friends.  She was a member of the Sweet Elite Social Club of the Princess Anne/Salisbury area and served as their Event Coordinator.  Miss Fluff, as she was affectionately called also was an avid reader.  She had a passion for books and was a member of the Page Turners Book Club of Baltimore.  She was an organizer and was ever-present at family functions, especially the Annual Smith and Jones Day Family Reunions.  Michelle was in the process of assisting with her next class reunion and the planning of the next family reunion, when God called her home.
Michelle really loved to help people and had a nurturing spirit.  She always took the time to encourage the young family members.  She could be counted on to help and fill in the gaps where needed. She assisted with the raising of her niece, E'Recha Bailey of Princess Anne and her nephew, Jemyri Jones of Baltimore. All the children really loved their Aunt Chelle.  She was a loving daughter, sister, aunt, niece, cousin, and friend.  Michelle had a passion for life and was full of love and kindness.  Fluff will be sorely missed by many.
She leaves to cherish her memory: her devoted companion, Anthony Johnson of Baltimore; two brothers, James Smith, Jr. and Tony Smith, Sr., both of Princess Anne; one sister, Ola Milligan of Princess Anne; two aunts, Blanche Jones of Princess Anne and Frances Smith of Salisbury; one uncle, Arthur Smith (Luetta) of Salisbury; one great uncle, Prosser Smith of Princess Anne and two, devoted nieces, Tamika Jones of Princess Anne and Chantell Bentley of Baltimore.  A host of other nieces, nephews, cousins, other relatives and friends.  In addition to her parents, she was preceded in death by her nephew,    Michael Dennis, Jr.
A funeral service will be held 1 PM Saturday, January 30, 2016 at Metropolitan United Methodist Church in Princess Anne with a viewing one hour prior.  A viewing will also be held 6 to 8 PM Friday at the church.  Interment will be in John Wesley (Bowland Hill) Cemetery in Princess Anne.
7 Responses to "Michelle A. Hunter"
Share a Memory or Thought