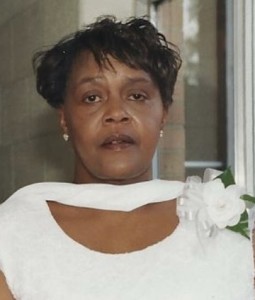 Verna Lela Boyer Jackson, 71 of Crisfield, Maryland, was born on August 3, 1945. She was the daughter of the late Vernon Boyer of Philadelphia, PA and Margaret E. Jones-Canterbury of Crisfield, MD. Verna departed this life after a hard fought battle with Lung Cancer on Wednesday, July 5, 2017 at Doctors Community Rehabilitation and Patient Care Center in Lanham, Maryland.
She was educated in the Public Schools of Somerset County. She worked in the Seafood Industry until her retirement. Verna joined St. Paul A.M.E. Church as a child.  Her proudest moment was her recent Baptismal.  She loved and trusted in the Lord.  Verna was a faithful Daughter of her beloved Light of Crisfield Temple #86.
"Vern Lee" as she was affectionately known had a fierce love for her family.  She moved to Clinton, Maryland in 2001 to care for her then new born granddaughter, Karley.   Her stay was initially for six months, but quickly turned into a fifteen year adventure.  Patrick, Kiara, Aaron and Karley were the light of her life.  Her love for them was unwavering. There was nothing she would not do for her Rugrats, plus one.  With the addition of great grandson Zaydin who affectionately called her "Boo Boo" she was her happiest.  She had a deep love for her son-in-law, Jr.  He was her confidant and partner in crime. Her daily conversations with cousin, Mary Ellen "Sissy" Corbin, her sister Gwen and friends from home brought her great joy especially on difficult days.
Vern Lee raised her children, daughter Mina "Tonya" and niece Keiko with firmness and tenderness.  They each had a unique and special relationship with her.  Her greatest joy was seeing them thrive as adults. They spent many hours before and during her illness sharing stories, giggles and promises. Keiko the caregiver and Tonya the medical advisor. She quickly reminded them she was still the "Boss."
She equally loved and cared for her siblings.  Gwen was her baby sister and loved deeply.  Her brothers Russ, Georgie Boy, Booker and Bay adored her.  She adored and cared for each of them with unconditional love.  There was an instinct in Vern Lee to love her children most; yet she had the capacity to make any child who needed her love, her own.  She frequently opened her heart, home and kitchen to those who needed a safe haven without question.
Vern Lee enjoyed life to the fullest. With her best friend Barbara she was always ready for a party.  She was candid, witty, confident and fiercely independent like her mother Margaret.  She took her role as matriarch after her mother's passing very seriously.  She loved to cook, play slots and spend time with her friends and family. Her open skillet fried chicken, potato salad, collard greens and macaroni & cheese were legendary.  She never missed an opportunity to prepare dinner with love for her family during the holidays.
She leaves to cherish her memories: her children, Mina "Tonya" (JR) Evans-Alston of Clinton, MD, and Keiko (Wale) Blackwell-Kosile of Upper Marlboro, MD; two grandchildren Patrick Shanks and Karley Alston of Clinton, MD and great-nephew Aaron Hutt of Upper Marlboro, MD; great-grandchildren Zaydin Shanks and Zariya White of Waldorf, MD, Reyan Shanks of York, PA; one sister, Gwen (Gerald, Sr.) Reynolds of Elgin, SC; two brothers, Booker Jones of Salisbury, MD and Welton (Vivian) Jones of Fayetteville, NC; a very special niece Kiara Jones of Laurel, MD; sisters-in-law, Vanessa Jones and Carolyn Weatherbee both of Crisfield, MD and Karen Jones of Salisbury, MD; one nephew Gerald Reynolds, Jr of Elgin, SC; her nieces Teniah Reynolds of Columbia, SC, Monica Brown, Eugenia Douglas, Fredia Douglas and Lynetta Douglas all of Crisfield, MD, Romenia (Keith) Hovington of Salisbury, MD, Theresa (Lem) Douglas-Abdullah of Princess Anne, MD; a special great niece Zionna Reynolds of Elgin, SC, cousin Marion Milbourne of Marion, MD; bonus granddaughter Whitney Coleman of Waldorf, MD; and a host of great-nieces, great-nephews, cousins and friends.
In addition to her parents she was preceded in death by her paternal grandfather Stetson Boyer, maternal grandfather Edward Jones, Sr., maternal grandmother Margaret Harris Jones; two brothers, Albert "Russ" Dix, Jr. and George E. Jones; special aunt, Virginia "Mina" Sterling, god son Ryan "Boogie" Johnson and best friend Thomas H. Ward, Jr.
Vern Lee will be lovingly remembered and greatly missed by all who knew her.
A memorial service will be held 12 PM, Saturday, July 15, 2017 at St. Paul A.M.E. Church in Crisfield, MD.  The Interment will be private.
4 Responses to "Verna L. Jackson"
Share a Memory or Thought