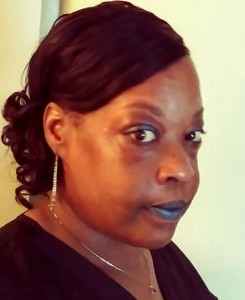 Iralee Sharese "Pebbles" Anderson, 52, of Salisbury peacefully entered into eternal rest on Monday, July 10, 2017 at her home.  Born January 30, 1965, she was the daughter of Doris Allen and the late Robert Niskey.  She was blessed to have been adopted by the late Aredean and Walter Anderson, Sr. who preceded her in death.
Iralee was educated in the Somerset County Public School System where she graduated.
She worked at UMES for many years in the dining hall.  Most recently she was working in the hotel hospitality business where she was employed with a wonderful team at Sleep Inn in Salisbury, Maryland as a housekeeping supervisor.
Iralee also known as "Pebbles" and "Lee" will be remembered for her loving and giving spirit.  She enjoyed cooking and entertaining family and friends.  Family members said no event was the same unless they had her dumplings gracing the table.  She also cooked and sold dinners to help a friend in need.
She was consistent and believed in the power of prayer.  She could motivate you to hold on and just call on the Lord.  There were many occasions where she would tell you of God's mercy and how he always showed up, sometimes in those last minutes when you feel like giving up; so keep the faith.
Iralee leaves to cherish her memories with her devoted children, Bryant Anderson, Andre and Aleeyah Elmore; In addition to her children, she lovingly raised and cared for as her own, Walter, Alesha, Tanesha, Dequan and Moesha Anderson who mourn the loss of their aunt; her dedicated sister, Vernita Ringgold (Jay); her brothers, Jessie Allen (Denise), Kendall Goslee (Patrice), Walter Anderson, Jr., other siblings, Kaveen Coulbourne (Garnett), Kevin Niskey and Kendall Niskey (Shalonda); the love of her life, Michael Gayle who will forever cherish the memories they shared for many years; godson, Jaden Conway; goddaughters, Dee Roberts and TyAza Tucker; special friends, Lisa Handy and Tiffany Adams who loved her as a sister; her youngest children's father, Dana Elmore; nephews, nieces, many other family members and friends.
A service of remembrance will be held 7:00 PM Thursday, July 20, 2017 at Anthony E. Ward, Jr. Funeral Home in Princess Anne, with a viewing one hour prior.  Interment will be held 10 AM Friday, July 21, 2017 at Mt. Zion Historical Church Cemetery on Polks Road in Princess Anne.
Share a Memory or Thought