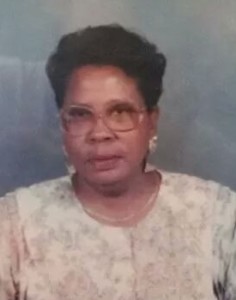 Goldie Mae Bonneville, 76, of Pocomoke City, departed this life on Tuesday, July 18, 2017, at Peninsula Regional Medical Center in Salisbury. Born February 17, 1941, she was the daughter of the late Golden and Hattie Townsend.
Goldie was educated in the Public Schools of Accomack County Virginia.
She accepted Christ at an early age, and received her early Christian training at Deas Chapel United Methodist Church in Horntown, Virginia.
Goldie worked in the Seafood Industry for many years until her retirement.
She was a strong matriarch who reared her family in the Christian way, teaching them to respect others and to be of good character.  She enjoyed spending time with all her family and friends whom she loved very much.
She is survived by five sons, Michael, Sr. (Prudence), Ernie (Rev. Cynthia), George (Lendora), Linwood, Sr. (Brenda) and Anthony Bonneville, Sr. (Cordine); two daughters, Margaret Price (Howard) and Doris Bonneville (Gary) and their father, George Bonneville; one daughter-in-law, Patricia Bonneville; 32 grandchildren; 64 great grandchildren; eight great-great grandchildren; two sisters, Lula Brown and Spina Mills; and a host of nephews, nieces, other family and friends.
In addition to her parents, she was preceded in death by two sons, Edward and Marvin Bonneville and five siblings.
A funeral service will be held 12 noon Saturday, July 29, 2017 at New Beginnings United Methodist Church, 32347 Chincoteague Road, New Church (Wattsville), VA with a viewing one hour prior. A public viewing will be held 2 to 6 PM, Friday, July 28, 2017 at Anthony E. Ward, Jr. Funeral Home in Princess Anne. Interment will be at Mount Sinai Baptist Church Cemetery in Pocomoke.
Share a Memory or Thought