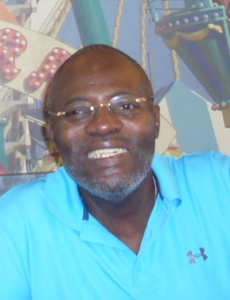 Seth Elton Lee Holden, Jr., was born on August 14, 1954 in  Withams, Virginia to the  late Seth Elton Lee Holden, Sr. and Fannie Robbins. He peacefully went to be with the Lord on Monday, July 31, 2017 at Peninsula Regional Medical Center in Salisbury.
He received his education in the Accomack County Public School System in Accomack. Seth was employed at Perdue farms, Incorporated for many years, working in various positions such as Chicken Catcher, Forklift Operator, Live Haul Crew Leader and a Truck Driver.  He owned his own business, Seth Holden Contractor.  He was not afraid to try new things. He was also a very hard worker.
He dedicated his life to Christ at the Apostolic Tabernacle in Westover, Maryland under Pastor Clarence Heath.  He later became an Ordained Minister, at Victory in Praise Worship Center in Salisbury under Apostle Edward L. Moss where he served as an Amour Bearer.
His passion was riding on his Harley-Davidson and keeping his cars clean.  As his wife would say, "He's going to wipe the paint off them".  He enjoyed spending time with his family and friends.  He will be forever known for his kind heart, gentle spirit and willingness to help others.
Seth leaves to cherish precious memories with: his loving wife, Anna Holden of Princess Anne; daughter, Angela Custis of Salisbury; sister, Margaret Jenkins of Philadelphia, PA; step children, Kevin Fisher, Sr. of Pocomoke, MD,  Vanessa Fisher of Princess Anne and Melody Broussard (John) of Newport News, VA; eight grandchildren, Tiffany Ewell of VA, Martice and Marcus Ewell of Salisbury, Skky Townsend of Washington, DC, Sony'e Lankford of Princess Anne, Chantel Smith of Fayetteville, NC,  Kevin, Jr. and Kenyon Fisher of Pocomoke; brothers-in-law, Calvin Costen (Deborah), Thomas Costen (Debora) and Donald Costen (Dawn); a host of nephews, cousins and friends.
He was preceded in death by one daughter, LeShonda Holden Smith.
A funeral service will be held 1:00 PM Saturday, August 5, 2017 at Metropolitan United Methodist Church in Princess Anne with a viewing one hour prior.  A public viewing will be held 2:00 – 6:00 PM Friday, August 4, 2017 at Anthony E. Ward, Jr. Funeral Home in Princess Anne.
Interment Private.
One Response to "Seth Elton Lee Holden, Jr."
Share a Memory or Thought