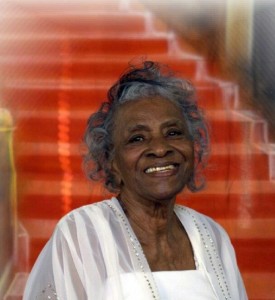 Ruth Ella Hill, 106, was born on February 20, 1911 to the late John and Florence Horsey-Rayfield, in Crisfield, MD.  She departed this life on Friday, August 18, 2017, at the Alice B. Tawes Nursing Home, God in his infinite wisdom called his faithful servant home.
She spent the very early part of her childhood living in Crisfield, MD and Chester, PA.  She returned to Somerset County, MD in 1919, to live in Brice's Corner, Liberia, and Crisfield.  She was educated in the Somerset County Public School system.
In 1928, Ruth Ella married the late John Stephen Hill and to this union four children were born.
She grew up in a Christian home and she joined Shiloh United Methodist Church in 1937, where she was the oldest living member, at the time of her passing.  She was an active member and served on many committees throughout her lifetime.  She served as a Worship Leader, the Treasurer of the Parsonage Committee, the Secretary of the United Methodist Women, a member of the Usher Board, a Communion Steward, an active member of the Kitchen Committee, until the age of 89 and was a member of the Care Committee. She was the Founder of the Precious Memories Annual Day and a part of that Committee, which was started in memory of her mother—Florence Rayfield.  This committee was dedicated to making improvements to the church and significant donations were made to assist in paying off the mortgage for the church parsonage.
She belonged to several organizations and held different positions within each of them. She was the oldest member of Starlight Chapter # 44 of the Order of the Eastern Star, and served as a Past Worthy Matron. She also belonged to Camper Club Eighty-Five and was one of the oldest members of  Light of Crisfield Temple Lodge #86.
She was a pillar in her community and an inspiration to all who knew her. She was well known by all—from the youngest to the oldest.  She loved people and inviting them to her house to eat.  She was known for her many gifts.  One: Gardening – She loved her flowers and tending to her yardwork.  It wasn't a surprise to see her cutting grass, pulling weeds and pushing the wheelbarrow around the yard. She did this when she was 100! Two:  Cooking – She loved to cook and feed people.  Every Sunday, she had dinner at her house, not just for her family, but she would cook enough to send to others within the community.  She was known for her homemade rolls, chitterlings, fried oysters, crab cakes, chicken and dumplings, muskrat and gravy, greens, candied sweet potatoes, turnips, macaroni n' cheese and her homemade vegetable soup. She could cook! Three: Decorating – Everyone would stop by to take pictures and would look at her Christmas decorations that she would do each year. She loved Christmas!
She was truly a remarkable woman.
Her life and memories are survived, cherished and loved by her devoted son, John G Hill (Regina), 10 grandchildren, 14 great-grandchildren, 31 great-great grandchildren, and one great-great-great grandchild; two nieces, Rose Gray and Hazel Conway, and four nephews, Brantley Whittington, John Rayfield, Rudolph Cane and James Cane.  She is also survived, cherished and loved, by several play-children, cousins, and a host of other relatives, friends and her church family.
In addition to her husband and parents, she was preceded in death by her three daughters: Anna Mae Robinson, Carpathia Miles and Ruth Viola Hill; one brother, John Rayfield; and one sister, Elsie Whittington.
During her lifetime, she had the opportunity to work various jobs. To name a few, she raised chickens, worked on farms and worked in the Seafood Industry for many years. She retired in 2007, at the age of 93 from the seafood industry.  She received the Seafood Worker's Festival Award in 1994, for being the oldest Seafood Worker. In addition to her full-time
A funeral service will be held 1:00 PM Saturday, August 26, 2017 at Shiloh United Methodist Church in Crisfield with a viewing one-hour prior.  A viewing will also be held 6:00 to 8:00 PM, Friday, August 25, 2017 at the Church. At 7:00 PM ceremonial rites will begin by the Starlight Chapter #44 Order of the Eastern Star of Princess Anne and Light of Crisfield Temple #86 in that sequence. Interment will be held in the family cemetery in Crisfield.
4 Responses to "Ruth Ella Hill"
Share a Memory or Thought