WENDELL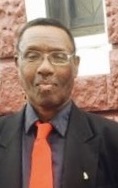 TURPIN was born in Philadelphia, Pennsylvania on August 10, 1952 to the late Eugene (Sr.) and Carrie Turpin. On Tuesday, October 24, 2017, he departed from this life. He was the second of four children.
As a boy, he was a member of Peniel United Methodist Church in Philadelphia, under the leadership of Reverend Elder. During the summer months he attended Mt. Peer United Methodist Church, Branch, Maryland.
Wendell was educated in the Philadelphia school system. Upon graduation from Dobbins Technical School, Wendell joined the United States Navy where he received an honorable discharge.
After the Navy, he returned to his beloved Marion Station, Maryland, where he had many childhood memories of summers filled with family and friends. He always said he preferred the country and country life.
Wendell worked at Rubberset in Crisfield, Maryland for many years. He later worked for the Somerset County School district as a custodian from which he retired in 2007.
Retirement gave him the opportunity to do one of the things he enjoyed, being outside tinkering and repairing things. He would spend countless hours taking things apart and putting them back together. Even as a child his pockets would be full of small parts and gadgets. He loved yard work and cutting yards kept him outside. You would often see Wendell riding the roads with his truck and trailer with riding mower.
For many years Wendell sang with the John Wesley United Methodist Men. He provided his deep bass voice that he honed by watching and listening to his Uncle Nube Cullen. He cherished the friendships he developed with the group. He enjoyed traveling with them throughout the Eastern Shore, Philadelphia, New Jersey and many other locations.
Wendell was well liked by this community and had an easygoing personality. He was always ready for a friendly conversation and was known to add some tall tales to the discussion from time to time. Most of all, he was a noble man, always willing to help his family and friends whom he loved so much. His memory will live on with us forever.
He leaves behind his mother, Carrie Turpin; two daughters, Alicia Turpin and Sarah Evans; one brother, Eugene Turpin Jr. (Patricia); two sisters, Brenda Turpin and Denise Turpin; four nephews, Bruce Clarke Jr., Terrance Clarke, Brett Turpin and Jeffrey Clarke; one niece, Claudette El Azri; and a host of great nephews and great nieces as well as family and friends.
A funeral service will be held 11:00 AM Saturday, November 4, 2017 at Handy United Methodist Church in Marion Station, with a viewing held one hour prior.  A public viewing will also be held 2:00 – 6:00 PM Friday, November 3, 2017 at Anthony E. Ward, Jr. Funeral Home in Princess Anne.
Interment will be at Mount Peer Cemetery in Marion Station.
Share a Memory or Thought