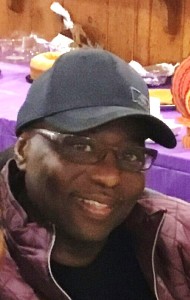 Leroy Sindy Taylor, Sr. born January 8, 1961, son of Ella Taylor Mack (Oscar) and the late Stanford D. Maddox suddenly departed this earthly life on Saturday, December 16, 2017.
Leroy, affectionately known as "Lee" and "Hunion" was born and raised in Marion Station, MD.  During his teen years, the family moved to Crisfield with his grandmother, the late Lillian Taylor Ames.  He received his education from Crisfield High School where he graduated in 1980.
While in high school and many years afterwards, Leroy's first job was at Metompkin Bay Seafood.  He then was employed by Perdue in Salisbury.  The last job, until his untimely demise, was held at Toriod Corporation in Salisbury.
Shortly after graduating from high school, he married Lily Jackson in August 1983.  From this union there were three children:  Leroy Jr., Jamaal, and Shamarla Taylor.  In the year 2000, with Kimberly Sledge, Leroy's fourth child was born, Taijah Taylor.
Leroy was always smiling, fun loving and caring.  He loved his family and liked cooking for them.  His special dishes were rice pudding and corn bread with pineapples.  He was an excellent pool player – those that remember Tidies Pool Hall should know that. He loved playing cards – Poker was his game!
Leroy was preceded in death by two siblings:  Cozetta Marie and Terry Thomas Taylor.
He leaves to cherish his memory:  as previously mentioned his mother, two sons and two daughters; five grandchildren, Kierah Webster, JaKayla, JaLaiah, Jayden and Ja'Rell Taylor; four siblings, Stanford D. Taylor of Crisfield, Preston L. Taylor, Sr. of Crisfield, Ralph M. Taylor, Sr. (Tameka) of Salisbury, and Cheryl T. Cornish (Eric) of Upper Marlboro; four aunts, three uncles and a host of other relatives and friends.
A funeral service will be held 11:00 AM Saturday, December 23, 2017 at Highway Holiness Church in Crisfield.  Interment will be at Mt. Peer Cemetery in Marion Station.
2 Responses to "Leroy Sindy Taylor"
Share a Memory or Thought