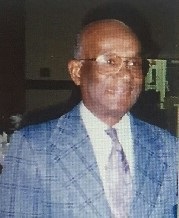 Melvin C. Young, son of the late Ira and Clara Langford Young, was born September 14, 1927 in Marion Station, Maryland.  He departed this life on Thursday, January 4, 2018, at Coastal Hospice at The Lake in Salisbury.
Melvin was educated in the Somerset County Public School System and graduated from Crisfield Colored High School in 1945.  He served in the United States Army and later was employed at Hughes in Philadelphia, PA. Foreign Advisory in Princess Anne, MD, Carvel Hall in Crisfield, MD and Pocomoke Plywood Company.
He joined Handy United Methodist Church in Marion at an early age, where he served as president of the finance committee, regularly attended bible study and took care of various things around the church.  Some of his favorite hymns were "Come Ye Disconsolate," "We've Come This Far By Faith," and "Precious Lord."  Melvin was also a former president of the AARP organization in Crisfield, and a member of the American Legion.
Melvin leaves to cherish his memory: his devoted wife of 39 years, Marguerite Miles Young; four step children, Rita Moore of Fayetteville, NC, Chauncey Campbell of Baltimore, MD, Ronald Campbell of Crisfield and Yvonne Whittington (Michael) of Princess Anne, MD; one brother, Homer Young (Yvonne) of North Carolina; three girls that he helped raise, Sheila, Elaine and Francine of Philadelphia, PA; step grandchildren; step great grandchildren; four nephews, Alvin, Russell, Tyrone and Shanga; two nieces, Sheila and Sharon of Baltimore, MD; and a host of other relatives and friends.
In addition to his parents, Melvin was preceded in death by, two brothers, Wendell and Roland Young; one sister, Tryphaena Turpin; and one niece, Aliceteen Taylor.
A funeral service will be held 1:00 PM Saturday, January 13, 2018 at Handy United Methodist Church in Marion Station with a viewing one-hour prior.  Interment will be held 1:00 PM Tuesday, January 16, 2018 at The Eastern Shore Veterans Cemetery in Hurlock.
2 Responses to "Melvin C. Young"