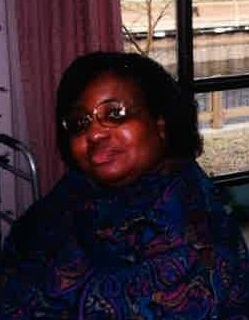 Rebecca Delilah DeShields, 69, of Salisbury, Maryland, formerly of Princess Anne, Maryland departed this life on Thursday, January 11, 2018 at Peninsula Regional Medical Center in Salisbury.  She was born February 20, 1948, she was the daughter of the late Inez DeShields-Elsey and James Anderson.
She was educated in the Somerset County Public Schools and graduated from Somerset High School in 1966.  She later attended the University of Maryland Eastern Shore, graduating in 1987.  This was a great accomplishment for Rebecca who never let her disability stand in the way of whatever goal she wanted to achieve.
Rebecca joined St. John United Methodist Church in Deal Island, Maryland at an early age.  She was later affiliated with the First Baptist Church of Salisbury through their outreach ministry.  She thoroughly enjoyed their weekly services.
Because of her disability, Rebecca became a resident of Anchorage Nursing Home where she resided for approximately 30 years.  While there she made the best of her situation and participated in many activities and programs.  She often accepted leadership roles and was an advocate for patient rights.  She was not one to stay in her room and would often be found downstairs in the main room playing games with other residents or socializing.   She enjoyed being outside and would ask to be taken out as much as the weather permitted.
Rebecca enjoyed visits from her family and telling them what to do and never let them forget she was the oldest.
Loving memories will be cherished by: one son, Antonio DeShields; two grandsons, Brendan and Aiden; three brothers, Benjamin and Marcellus Elsey, both of Princess Anne and Johnathan Hutt; four sisters, Darlene Bess of Philadelphia, Tammy Wilson (Wilbert), Amanda Elsey, all of Salisbury and Janice Anderson of Baltimore; one aunt, Florence C. Jones; one sister-in-law, Tonya DeShields and a host of nephews, nieces, cousins and friends.
A funeral service will be held 11:00 AM Saturday, January 20, 2018 at Anthony E. Ward, Jr. Funeral Home in Princess Anne, Maryland with a viewing one hour prior.  A public viewing will be held 2:00 – 6:00 PM Friday, January 19, 2018 at the Funeral Home.
Interment will be at John Wesley "Bowland Hill" Cemetery, Princess Anne, MD.
2 Responses to "Rebecca Delilah DeShields"
Share a Memory or Thought