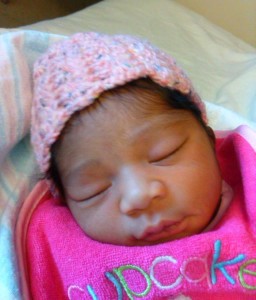 Baby Girl Lay'Mya Miracle Arnette Cottman, 12 days old, went to her eternal rest on Monday, August 4, 2014 at Peninsula Regional Medical in Salisbury, Maryland.  Born July 23, 2014.  She was the daughter of Kevin L. Cottman, Jr. and  Iona L. Caldwell of Princess Anne, Maryland.
In addition to her parents, she is survived by one brother, Kayshawn L. Cottman of Princess Anne; her paternal grandparents, Kevin L. Cottman, Sr. (Paulette) of Eden, Maryland; Laura Ann Carter of Princess Anne; maternal grandparents, Daryll Caldwell of Dover, Delaware and Febra Purnell of Milton, Delaware; two uncles, 0ne aunt, and a host of other relatives and friends.
A Wake and Visitation Service will be held 4 till 6 p.m. Thursday, August 14,2014 at the funeral home in Princess Anne. Interment will be in John Wesley (Bowland Hill) Cemetery in Princess Anne.
One Response to "Lay'Mya Miracle Arnette Cottman"