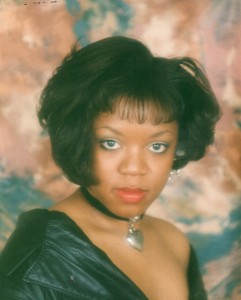 Robin Nichole Bivens, 43, of Princess Anne, Maryland, was born in Portsmouth, Virginia on April 28, 1971, to Lorelei Faulkner and the late Robert Faulkner.  Robin passed away on Monday, August 11, 2014, surrounded by family.
She was educated in the public schools of Virginia, New Jersey, California and Pennsylvania and was a consistent honor student.  For the majority of her employed years, Robin worked as a secretary and administrative assistant in the field of education.
Robin was married to her beloved husband of 17 years, Jermaine Bivens.  She cherished their union and considered it one of her greatest blessings.
Robin, one of Jehovah's Witnesses, spent the majority of time in her last days speaking to people about the Bible's message and contemplating how to do it even more so.  She cared deeply for her fellow man and wanted all to gain the hope of everlasting salvation in which she so strongly believed.
In addition to her father, Robin was preceded in death by her mother-in-law, Regina Bivens and sister-in-law Julia Cotton.  Along with her husband, Jermaine, and mother, Lorelei Faulkner, Robin is survived by a father-in-law, George Bivens, Sr.; five brothers-in-law:  Michael Whittington (Yvonne) of Princess Anne, MD, Johnie Thomas (Lydia) of  Salisbury, MD, Carlos Bivens (Carrie) of Joppa, MD, George Bivens, Jr. (Beverly) of Lincoln University, PA, and Jason Bivens of Salisbury, MD; numerous nephews and cousins.  Also left to cherish loving memories are a special aunt, Undra Woods, as well as abundant spiritual sisters and brothers and special friends.  She always looked forward to racing certain friends in the new world with her new, perfect body.  One spiritual sister she was particularly fond of used to speak to her excitedly about having a bonfire for their canes, walkers, eyeglasses and other implements that would soon be things of the past.
Proverbs 31:10-31 describes desirable qualities in a wife and this is exactly what Robin possessed.  She was a part of me as Genesis 2:24 describes and I was made better because of our union.  I will miss her dearly and will never be the same without her. (Added by Jermaine Bivens).
A memorial service will be held 3:00 PM Saturday, August, 16, 2014 at the Kingdom Hall of Jehovah's Witnesses in Westover, MD .  As an expression of sympathy, donations may be made to the Westover Congregation of Jehovah's Witnesses. (Written by Robin Bivens and updated by Jermaine Bivens)
7 Responses to "Robin Nichole Bivens"