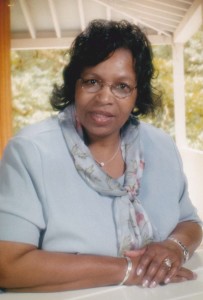 Joyce Faye Corbin was born November 4, 1940 to the late James Corbett and Alice Wright of Chance, Maryland.  She was a faithful member of St. Charles United Methodist Church; where she held the office as the President of the Ushers and the United Methodist Women.
Joyce was educated in the Public Schools of Somerset County; where she continued her life-loved career. She was known for her soft touch and gentle hand as she escorted students into their destiny with a well educational plan.  Administrators, Staff, and especially Students, were truly blessed with her intellect, presence and wit. She was dedicated in the summer, winter, spring and fall; working in every program that needed her extended hand.  She believed in pushing or pulling everyone to their highest potential at any cost!
"Sweetsie" as she was affectionately called by family and friends; was joined in holy matrimony to Weldon Corbin Sr.  She was his bride for fifty-three steadfast years! Their unfeigned love brought forth three beloved children; Teresa Horsey (William) of Princess Anne, Maryland, Weldon Jr. (Bonita) of Alexandria, Va. and the late Curtis L. Corbin, Sr.
"Sweetsie" answered the call for eternal rest on Friday, September 12, 2014. She FOUGHT a good fight, she kept the FAITH and she FINISHED her course in VICTORY!
In addition to her husband Weldon; and children, Teresa and Junior; she also leaves to mourn her unconditional loved grandchildren; Janell Johnson, Curtis Corbin Jr., De'Von, Ja'Nae,  Weldon Corbin III,  and Ka'Toya Price;  six great grandchildren; three god children; Elrich Jones Sr., Deborah Johnson (Darren), and Dolores Jones-Peters (Levin). She is cherished by seven sisters; Levenia Jefferson of Chance, MD, Geraldine Hitch of Princess Anne, MD, Alice J. White, Shirley Wright and Francis Butler of Baltimore, MD, Pearl Johnson of Chance, MD, Jackolee Bivens of Owings Mills, MD, Peggy Burke of Allen, MD, Dorthea Johnson and Geraldine Owens of Cambridge, MD. Two brothers; Danny Wright (Diana) of Philadelphia, PA , Lawrence Wright Sr. (Jenny) of Salisbury, MD, and Leroy Cane (Greta) and a host of nieces, nephews, cousins and friends.
In addition to her son Curtis L. Corbin, Sr. she was also preceded in death by her brothers Chester Wright and James Wright Jr.
A funeral service will be held 11:00 AM Saturday, September 20, 2014 at Metropolitan United Methodist Church in Princess Anne, Maryland with a viewing one hour prior.  Rev. Deangelo Johnson will be the Eulogist.  A viewing will also be held 6:00 PM – 8:00 PM Friday, September 19, 2014 at the Funeral Home in Princess Anne.
Interment will be held 11:00 AM Monday, September 22, 2014 at Springhill Memory Gardens in Hebron, Maryland.
5 Responses to "Joyce F. Wright-Corbin"