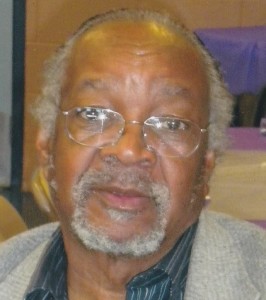 Quietly on Tuesday, January 13, 2015, an angel was sent to the Manokin Manor Nursing Home in Princess Anne, Maryland and claimed the life of Barry Glenwood Barkley. It was time to go home.
Barry was the twin brother of Bessie (Barkley) Morgan and they were born on April 27, 1936 to the late Glenwood and Carpathia Barkley. Twins! What a special blessing.
Barry graduated from the Carter G. Woodson High School in 1954. He then went on to further his education at Central State University in Wilberforce, Ohio. After completing four years there, he enlisted in the United States Army.  He spent a tour of duty in Germany where he met up with his brother, Elmer Barkley, who was serving in the United States Air Force.
Barry was united in marriage to Isabella Douglas on March 24, 1970. They relocated to Washington, D.C. where Barry was employed as a computer programmer for the Arbitron Company. He was employed with Arbitron for more than 20 years.  Throughout the years, he enjoyed working in the Douglas Grocery Store on S. 4th Street.  After his retirement, and the passing of his wife, he relocated back to Crisfield to live with his sister, Virginia Horsey.
Barry renewed his membership and became an active and  supportive member at Shiloh United Methodist Church. He served on various committees in the church, and he especially enjoyed being part of the men's ministry and at one time served as chaplain.
Barry was a very active member in the Crisfield-Woodson Alumni where he worked on several committees. His last place of employment was "It Takes a Village", an after school program for the youth in the community. He provided transportation for the staff and the children. He willingly provided help wherever needed.
Barry attended many activities with Virginia, Elmer and Josephine. Barry had a quiet and loving spirit.  He enjoyed family reunions and picnics with the extended Barkley family and many close friends, especially the Nickens family.
His greatest joy was taking care of his daughters and grandchildren. He made this statement after a serious illness, "God has allowed me to return to my family to take care of my children and that's what I'm going to do."
Barry is survived by his two daughters, Tamala Douglas (Darnell) and Nakia Barkley; four grandchildren, Steven, Tamia, Tamyra, and Bry'Kia; one great grandson, Buddy; one brother, Elmer Barkley (Josephine); two sisters, Bessie Morgan (Edmond) and Virginia Horsey; his mother-in-law, Patricia Douglas; one brother-in-law, Bernzie Douglas, Jr. (Romenia), and one sister-in-law, Bonnie Douglas; and a host of nephews, nieces, other relatives and friends.
He was preceded in death by his wife, Isabella Barkley, one brother, Julius Barkley (Gladys); his father-in-law, Bernzie Douglas, Sr. and one, sister-in-law, Robin Douglas.
A funeral service will be held 1 pm Monday, January 19, 2015 at Shiloh United Methodist Church in Crisfield, Maryland with a viewing one hour prior.  Rev. Frances Fitchett will be the Eulogist. Interment will be held 2 pm Tuesday, January 20, 2015 at The Eastern Shore Veterans Cemetery in Hurlock, Maryland. In lieu of flowers, please make donations to The Shiloh U.M.C. Church Restoration Fund, Crisfield, Maryland.
One Response to "Barry Glenwood Barkley"