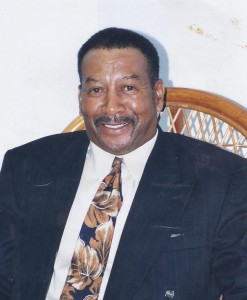 Anthony (Tony) Arnold Evans, Sr., 73, went home to be with his Heavenly Father on Monday, September 5, 2011 at Peninsula Regional Medical Center in Salisbury, Maryland.
Tony was born in Marion Station on April 5, 1938 to the late William Thomas Evans, Sr. and Octavia Beatrice Evans.  As a member of Mt. Peer United Methodist Church, he accepted Christ as his personal Savior at an early age.  He was a Lay Leader of the Marion Charge and served until his health failed.
Tony was educated in the Somerset County Public Schools and upon completion, served his country in the United States Marine Corps. He worked several jobs in the school system and Necco Candy Factory in Boston, Massachusetts.  He returned to Maryland in his later years, worked at Carvel Hall in Crisfield, Maryland and retired from the University of Maryland Eastern Shore in Princess Anne, Maryland. Tony also loved playing baseball and watching it, too.  He umpired little league games, loved to eat and would travel miles to play ball or go to church.
On July 3, 1993, he was joined in holy matrimony to Glenda Faye DeJarnette, whom he leaves to cherish his precious memory; four daughters, Valeria (Allen) Williams of Norfolk, Virginia, Lillian (Howard) Ward of Salisbury, Maryland, Cassandra (Emerson) Prattis of Marion Station, Maryland and Crystal (Anthony) Jackson of Crisfield, Maryland; four sons, Anthony Evans, Jr., Kenneth (Denise) Evans, Sr. Alexander DeJarnette of Marion Station, Maryland and William (Sandy Maria) Evans, Sr. of Crisfield, Maryland; three stepsons Freddie (Errika) Grant, Jr. of Atlanta, Georgia, Christopher (Carol) DeJarnette of Boston, Massachusetts and Charles DeJarnette of Salisbury, Maryland; twenty three grandchildren and eight great-grandchildren.
He also leaves to cherish his memory his very special sister, Clementine Evans-Spence and brother Herdius Evans, Sr.; three sisters-in-law, Virginia Evans of Marion Station, Maryland, Judy Evans and Deborah (Glenn) Harrison of Boston, Massachusetts; his brother in Christ and best friend The Reverend William H. Miles; several nieces, nephews, extended family, friends and his special niece Lynette Thomas who loved to cook and feed "Uncle Tony."
He was preceded in death by one son, Charles Evans; four brothers, Henry Kenney, William Evans, Jr. George Evans, Sr., Samuel Evans, Sr. ; and three sisters, Emma Evans, Agatha Evans and Susie Evans.
A funeral service will be held 2:00 p.m.  Saturday, September 10, 2011 at  Handy United Methodist Church in Marion Station, Maryland where friends may call one hour prior.  Friends may also call Friday, September 9, 2011 from 6 to 8 p.m. at the church.  Interment will be held in Mt. Peer Cemetery in Marion Station, Maryland.
Share a Memory or Thought