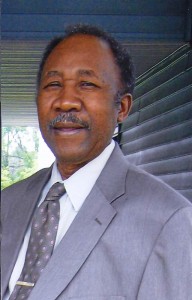 John Wesley Collins, 67, son of the late Walter H. Collins and Marie E. Collins was born on January 23, 1944.  He departed this life on Wednesday, August 31, 2011 at the home of his mother-in-law in Princess Anne, Maryland.
Johnny, as he was lovingly called by his family and friends, was educated in the public schools of Somerset County.  He was employed at Campbell's Soup Company, Dresser Wayne and Deer's Head Center, where he retired in 1988.  Johnny loved gospel music, watching sports on television and cooking.  His favorite gospel selection was "Ride Out The Storm." Johnny was quiet in nature, who was devoted to his family and friends.
He leaves to cherish fond memories with his wife of 47 years, Constance Waters Collins; two sons, John Collins, Jr. and Andre' Collins of Chance, Maryland; one daughter Lisa (Ronald) Collins of Princess Anne, Maryland; three brothers George (Mable) Collins of Fairmount, Maryland, Robert (Vietta) Collins and Eugene (Wanda) Collins of Trenton, New Jersey; one sister, Angela Collins of Crisfield, Maryland; seven grandchildren, Shayla Handy, Lamar Collins, Antoine Collins, Adrian Harmon, Morgan Collins, Kendall Collins and Andre' Collins, Jr.; one great granddaughter, Dasia Handy; mother-in-law, Geraldine Hitch of Princess Anne, Maryland; three sisters-in-law, Maggie Collins of Fairmount, Maryland, Alona Collins of North Carolina and Evangelist Alice White of Princess Anne, Maryland; and a host of nephews, nieces, special cousins, other relatives and friends.
Johnny was preceded in death by four brothers, Elwood Collins, Charles Collins, Walter Collins, Jr. and Milton Collins; and two sisters Bernice Ward and Beatrice Collins.
A funeral service will be held at 11 a.m. Saturday, September 10, 2011 at St. James United Methodist Church in Westover, Maryland where friends may call one hour prior.  Friends may also call Friday, September 9, 2011 from 6 to 8 p.m. at the church.  Interment will be held at St. Charles United Methodist Church Cemetery in Chance, Maryland.
One Response to "John Wesley Collins"
Share a Memory or Thought