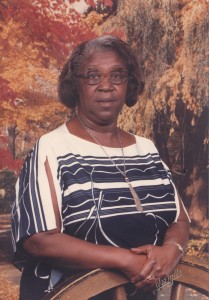 Margaret Emily Whittington was born on October 31, 1917 in Crisfield, Maryland. She departed this life and answered the call of her heavenly Father on Wednesday, March 14, 2012. She was the proud daughter of the late William H. Harrison Whittington, and Martina Maddox Whittington. She was a resident of the Alice Byrd Tawes Nursing Home and Rehabilitation Center in Crisfield, Maryland.
Margaret was educated in the Somerset County Public School System. She was employed as a domestic worker for many years in Philadelphia, Pennsylvania. After returning to Crisfield, Maryland she continued to work in the seafood industry and served as a foster grandparent for Shore-Up! She accepted Christ as a child at Shiloh United Methodist Church where she sang with the Shiloh Gospel Chior, Margaret enjoyed spending time with family and friends.
Margaret leaves to mourn her loss with one son, Winfield(Rev. Doretha) Whttington, Sr. of Marion Station, Maryland ; three daughters, Evola Maddox, Ethel( Randolph) Taylor, all of Crisfield and Shellie(Rev. Frank) Jones of Thorofare, New Jersey; a loving devoted nephew, who she considered a son, Dr. H.DeWayne(Louise) Whittington of Marion Station, Maryland; eleven grandchildren, who affectionally called her "Ma-Ma", Phillip, "Corky" Sutton and Jody(Felisha) Sutton, all of Crisfield, Maryland, Eloise Whittington and Evette Hughes, both of Baltimore, Maryland, Elmira(Gary) of Salisbury, Maryland, Winfield "Marco" Whittington, Jr. of Chesapeake, Virginia, Sheryl(Lawrence) Kidd of Waldorf, Maryland, Michael (Arlene) Whittington of Bowie, Maryland, Tracy Colbert of Pocomoke, Maryland, Denise (Rick) Marshall of Philadelphia, Pennsylvania, and Akisha Jones of Thorofare, New Jersey; a host of great-grandchildren, great-great grandchildren, nephews, nieces, other family and friends.
In addition to her parents, she was preceded in death by two sons, Ira and Rapathel Whittington; three sisters, Eunice Mason, Marilyn Whittington and Carletta Cain; four brothers, Harry, Jr, Charles, Harley and Robert Whittington, Sr.  She was a loving caretaker for all of her siblings during their illnesses until their death except Harley who lived in Cleveland, Ohio.
A funeral service will be held Saturday 12 noon at Shiloh United Methodist Church, in Crisfield where friends may call two hours prior. Friends may also call at the church Friday evening from 6-8 pm. Interment will be held at Mount Peer U.M.C Cemetery in Marion Station.
4 Responses to "Margaret Emily Whittington"