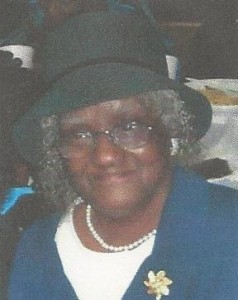 Beatrice Lula Hall, 80, departed this life on Tuesday, June 26, 2012 at Peninsula Regional Medical Center in Salisbury, Maryland. She was born on July 29, 1931 to the late Charles and India Borne Cannon. After the death of her parents at an early age she was raised by her grandparents, Mary Hayward and husband Edward. Her husband of 59 years, the late Charles E. Hall passed away on April 20, 2007.
Beatrice was educated in the Somerset County Public Schools and was a member of St. Mark's United Methodist Church in Oaksville, Maryland. She was employed at Green Giant Foods and Mountaire Processing Plant and retired after several years of service.
Beatrice loved to sing and was a great dancer in her younger years. She also enjoyed listening to gospel music on the radio. She was a family historian as she collected news articles and maintained scrap books on all major and local events in the community. Beatrice loved God and would share with her children how she had to walk five miles from Dublin to St. Mary's Baptist Church for Sunday morning service. Additionally, Beatrice found joy while she was able to do hair for the young female family members as they found pleasure in reading her favorite magazine "True Confessions."
Beatrice was deeply loved and faithfully supported by her children during her lengthy illness while at Aurora Nursing Home especially by her only daughter, Juanita (James) Croswell; four sons, Kim, Sr. (Penny) of Port Republic, Maryland, Dr. Kirkland, Sr. (Betty), Ephraim, Sr. (Margaret) and Perry (Lisa) Hall, all of Princess Anne, Maryland. She is also survived by one brother, Linwood, Sr. (Bessie) Cannon of Millsboro, Delaware; one sister-in-law, Ethel Hall Melton of Philadelphia, Pennsylvania; two brothers-in law, Milford Hall of Philadelphia, Pennsylvania and Wilson "Bud" (Odessa) Hall of Princess Anne, Maryland; and a very special niece, Viola Hall of Upper Marlboro, Maryland. Beatrice was the proud grandmother of 27 grandchildren, Kim, Jr. (Keisha), Kirkland, Jr. (Maria), Melvin Whitlor, Dante, Charles, Sgt. Major Ephraim, Jr. (Helen), Reggie, Damon, Felicia, Sherrial Robinson, Dr. Mary (Terrrance) Vanlier, Tasha Croswell, Sharina, Trina, Ashley, Catherine and Sherlyn Hall along with Rhonda (William) Truitt, Tamara (Carlton) Holbrook, Orlando (Karen), Sidney Cottman, Sonja Cottman, Alisa and Gregory Moore, Kimberly (David) Galeev and James and Durrell Croswell. She also leaves 36 great grandchildren and four great-great grandchildren; and a host of nephews, nieces and other relatives.
She was preceded in death by one sister, Estella Ballard and one brother, Charles "Sonny" Cannon.
A funeral service will be held 1 p.m. on Saturday, June 30, 2012 at St. Mark's United Methodist Church in Oaksville, Maryland where friends may call two hours prior.  Friends may also call from 6 to 8 p.m. Friday evening, June 29, 2012 at the funeral home in Princess Anne, Maryland.  Interment will be held at St. Mark's United Methodist Church Cemetery in Oaksville, Maryland.
6 Responses to "Beatrice Lula Hall"