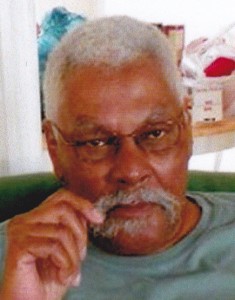 Gary Lamont Collins, 73, departed this life Wednesday, July 11, 2012 at Peninsula Regional Medical Center.  Born in Crisfield, Maryland on November 27, 1938, he was the son of the late Olga C. Collins and Charles Washington.
Gary, known as "Stretch and Belly" graduated from Woodson High School in 1958.  He served in the Army from 1961 to 1963.  When he returned from the Army, he was employed at Mrs. Paul's Kitchen, Rubberset and then McCready Hospital in security until he retired.
He loved to watch Nascar races and sports. He liked to also to hold conversations with his friends as he took daily rides to the store to shop and also downtown to the bank before they closed.
Gary leaves to mourn four children, Everette (Sharon) Collins, Baron (Tina) Collins, both of Baltimore, Corey Collins and Timothy Collins, both of Georgia; eight sisters, Joan Sterling and Sandra Douglas, both of Crisfield, Maryland, Carolyn (Oconnell) Brown of Port Norris, New Jersey, Brenda Jarmon of Pennsylvania, Iva Mae (Donald) Corbin, Gloria (Thomas) Evans, Vanessa Coursey and Arlene (Robert) Carter, all of Millville, New Jersey; two brothers, James (Alona) Collins of Crisfield and Vincent (Susie) Collins of Salisbury, Maryland; seven grandchildren, Baron, Gary, Jasmine, Jada, Wesley, Timothy and Kayla Collins; and a host of nephews, nieces, cousins and friends.  He also leaves to cherish three best friends Richard Scott, Leroy Whittington and Jimmy Ward.
In addition to his parents, he was preceded in death by his stepmother Mary Coursey; and three brothers Alfred, Leonard and Charles Coursey.
A funeral service will be held 11 a.m. Saturday, July 21, 2012 at Shiloh United Methodist Church in Crisfield where friends may call one hour prior.  Friends may also call at the church Friday, July 20, 2012 from 6 to 8 p.m. Interment will be held at Mt. Peer United Methodist Church in Marion Station, Maryland.
One Response to "Gary Lamont Collins"
Share a Memory or Thought