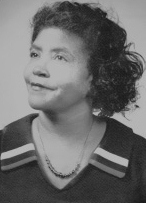 Caroline Janie Boston Hayward,86, of Princess Anne, Maryland, departed this life on Thursday, November 8, 2012 at Peninsula Regional Medical Center in Salisbury. 
Born October 6, 1926 in Dublin, Maryland, Caroline was the daughter of the late Sylvester Boston, Sr. and Sallie Mae Beauchamp.  Caroline received her education in the Somerset County School System.  At an early age, she dedicated her life to Christ and was baptized at Mt. Olive Baptist Church.  In 1946, Easter Sunday, Caroline was united in holy matrimony to the late Thomas Hayward and of this union two children were born, Thomas (TJ) and Carol.
Caroline relocated to Philadelphia, Pennsylvania to work for a short period and later returned to Princess Anne and was employed with the Campbell Soup Company for thirty-three years.
She later became a devoted member of St. Mark's United Methodist Church in Oaksville, Maryland and was a member of of the Daughters of Good Cheer.  She worked faithfully to the end on the Visitation Committee, United Methodist Women and the Usher Board.
Caroline was a member of the MAC Center and volunteered at Manokin Manor Nursing Home.  She enjoyed Monday nights, where she would participate at the Seton Center in their arts and crafts class.  Her passion in life was crocheting, BINGO and doing word searches.  Her favorite game shows were Jeopardy and Wheel of Fortune.  Often she could be heard saying, "What you know" and "Baby Cakes."  Caroline was was known to say what she meant and meant what she said.  She would be frank and honest when needed, but also be gentle with a smile.  Caroline would wait patiently every night for her daughter's telephone call to catch up on the status of her journey for the day.  Her daughter, Carol, was the sunshine of her day.  Caroline looked forward to her niece Mae picking her up on Fridays to participate in playing Bingo with the residents of Manokin Manor Nursing Home and she also enjoyed her devoted Brother Jack who transported her to Salisbury for shopping adventures and running errands.  Caroline loved most holidays, but she especially loved Thanksgiving and Christmas.  This is the time of the year she got to see all of her grandchildren and she went out of her way to make these days special.
Caroline was an iconic person to the Princess Anne community.  She was referred to and revered as a giving person, not only to her biological children, but to many other youth in the community.  Her effortless and tireless duties have led us all to a more productive and enriched life.  Caroline belived that we should all rise beyond our circumstances to move forward and give back to the next generation.
She quietly and peacefully flew to the loving arms of our Lord in the arms of an angel sent just for her safe passage.   She leaves to cherish wonderful memories, a devoted and faithful daughter Carol Hayward (Robert) Faulk of Pikesville, Maryland;  five grandchildren, Terrance (Pam) Hayward, of Princess Anne, Malaika, Oni, and Leiloni Hayward of Washington, D.C. and Charles Faulk of Pikesville; five great grandchildren, Destyn, Toryn, Zakais, Ja"Keira and Melvin; one sister, Bertha Winslow of Philadelphia, Pennsylvania; a devoted brother who she loved, adored and helped to raise, Sylvester "Jack" Boston of Princess Anne; two special daughters, Gayla Deshields and Lazette Young; and a special son, Reginald Deshields; a special friend, Liberty Eugenikos; and a host of nieces, nephews and friends.
In addition to her parents and husband, she was preceded in death byher son, Thomas "TJ" Hayward; six siblings, Henry Beauchamp, Laura Corbin, Elmira McBride, Eleanor Cannon, John Boston and Sallie Mae Brinkley.
A funeral service will be held 12 noon Saturday, November 17, 2012 at St. Mark's United Methodist Church in Oaksville, where friends may call two hours prior to the service.  Friends may also call at the church Friday evening, November 16, 2012 from 6 to 8 p.m. Interment will be in Oaksville Community Cemetery.
3 Responses to "Caroline Janie Boston Hayward"
Share a Memory or Thought