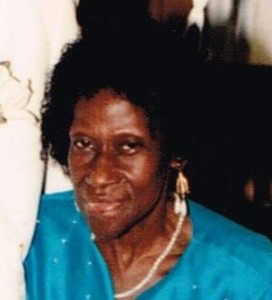 Norma Lee Sterling Campbell, 82, of Crisfield, was born to the late John Nutter Sterling and Iva Sterling. She was called to her eternal rest on Saturday, September 7, 2013 at McCready Memorial Hospital.
Norma Lee "Wee Wee" as she was affectionately called by some was born and raised in Baltimore, Maryland where she was educated in the Baltimore City Public School System. Norma Lee worked at Mt. Sinai Hospital for many years in Baltimore.
Norma Lee later moved to the Eastern Shore to Crisfield. Upon moving to Crisfield, Norma Lee met and married the late Herman Campbell. She worked in the Seafood Industry until her health began to fail.
Norma Lee was a very avid reader and could hold a conversation on any subject. Her doctors called her Dr. Campbell. She always had a word of advice for any listening soul and if you went to her for advice, you had better be prepared for an honest answer. When you visited her, her presence made you feel welcome; she was a great inspiration to young people and always thought about others more than herself even during her own illness. Norma Lee was also a member of the Light of Crisfield Temple #86 for a number of years.
Norma Lee leaves to cherish many fond memories, three daughters, Bernadette Battle, Ava Campbell and Venetia (Cheryl) Jackson; one son-in-law, Rodney Jackson; one sister, Mrs. Gladys Hill of Baltimore; one special sister-in-law, Ms. Gladys Campbell of Crisfield, MD; six grandchildren, Lisa, Torris, Toreano (Tito), Vonetta (Vonnie), Tavera and Tajah; eleven great grandchildren; two special nieces, Michelle and Cynthia, both of Baltimore and a host of other nieces, nephews and one loving companion of many years, Orlando "Kite" Purnell and many other relatives and many friends; the family wishes to recognize her special godsons, Samuel Ward, Andrew Jackson, William "Chauncey" Campbell, William Evans, William "Baby" Stevenson, Bruce Bell, Joseph James and Lawrence James; her special goddaughters, Sandra "Jeanette" Whittington, Shelia "Diane" Fisher, Vonzella Byrd, Carolyn Wlliams-Jackson, Denise Spence, and Davita Carmen.
She was preceded in death by one daughter, Tyeese Campbell.
A funeral service will be held 12 noon Saturday September 14,2013 at Shiloh United Methodist Church in Crisfield with a viewing two hours prior. Reverend Frances Fitchett will be the Eulogist. A viewing will also be held 1-6 p.m. Friday September 13, 2013 at the funeral home in Princess Anne. Interment will be in Mount Peer Cemetery in Marion Station.
Share a Memory or Thought