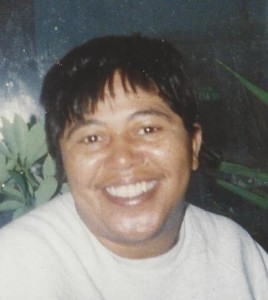 Norma Frances Palmer, 56, of Eden, Maryland, formerly of Princess Anne, Maryland departed this life Sunday, August 24, 2014 at Coastal Hospice At The Lake in Salisbury, Maryland.  Born June 29, 1958, she was the daughter of the late Cammie Taylor, Sr. and Betty Bivens Whittington (Brantley, Jr.).
She received her formal education on Somerset County Public Schools.  Norma worked numerous years in the corrections field in Smyrna, Delaware and in Wicomico County.
Norma was full of life and personality.  She was one of the strongest persons anyone could ever know.  She loved her family and did everything possible to protect and provide for them.
Her greatest joy was spending time with family and friend, laughing and having fun, playing computer games, dining out, traveling, music, singing and baking.  Among her favorite types of cooking was baking pastries and big family dinner, especially during the holidays.
Norma was a member of New Psalmist Non-Denominational Church in Westover, Maryland.  She loved the music sung by the choirs.  She would get so excited by the singing and praise that eventually she would join in singing and praising the Lord as well.
Norma leaves to cherish fond memories with her devoted companion, Timothy Polk of Eden; her loving sons, Michael and Saleem Taylor, both of Eden; her parents, Betty and Brantley Whittington, Jr. of Princess Anne; one sister, Mary Johnson (Bernard, Sr.) of Marion Station, MD; four brothers, Lyndell Taylor of Charlotte, NC; Ronald Taylor of Fayetteville, NC, Cammie Taylor, Jr. of Princess Anne and Brandon Taylor (Genice) of Salisbury; a special cousin, Margaret Palmer of Philadelphia, PA and a host of other relatives and friends.
She was preceded in death by one sister, Edith Taylor.
A funeral service will be held 1:00 PM Saturday, August 30, 2014 at New Psalmist Non-Denominational Church in Westover, Maryland with a viewing two hours prior.  Rev. Glendon Jones, Jr. will be the Eulogist.  A viewing will also be held 1:00 PM – 6:00 PM, Friday evening at the Funeral Home in Princess Anne, Maryland.  Interment will be in the Church Cemetery.
One Response to "Norma Frances Palmer"
Share a Memory or Thought