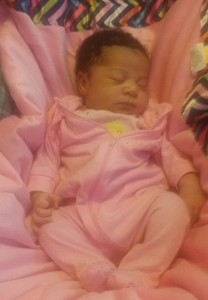 Na'Kia Michelle Holbrook, two months old, of Crisfield, Maryland departed this life on Tuesday, December 2, 2014 at McCready Hospital in Crisfield. Born October 24, 2014, she was the daughter of Jasmine Waters and Matthew Holbrook.
In addition to her parents, she is survived by two brothers, Josiah Waters and Marcus Jemison; her maternal grandfather, Jeffrey Waters, Jr.; her paternal grandparents,  Dawayne Holbrook (Emily) and Tanisha Thomas (B.J.); her maternal great grandparents, Donna Atwell, Audrey Waters and Jeffrey Waters, Sr.(Janice); her paternal great grandparents, Mitchell Holbrook (Gail), Catherine Smith and Lena Weatherly; one aunt, Kylah Waters; one uncle, Jonathan Holbrook; two great aunts, Audrey Handy (William,Jr.) and Jamie Waters; four great uncles, Timothy Waters(Keesun), Carlton Holbrook, Kevin and Curtis and a host of other relatives and friends.
She was preceded in death by one uncle, Alexander Rockett and her maternal grandmother, Wendi Atwell.
Services will be private.
One Response to "Na'Kiah Michelle Holbrook"
Share a Memory or Thought