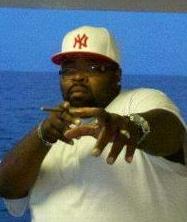 Eric Maurice Veney, 46, also known as E.V. or "Flim Flam" of Glen Burnie, MD formally of Crisfield, MD,  was called home to his eternal rest peacefully on Friday, May 8, 2015, surrounded by his loving family at Baltimore Washington Medical Center in Glen Burnie .  Eric was born on March 29, 1969 in Crisfield at McCready Memorial Hospital.  He was the son of Martha A. Veney-Ward and the late E. James Jones (Linda).
Eric graduated from Crisfield High School in 1989. He joined Highway Holiness Church at a very early age. He was employed with the State Highway Signals Division in Hanover, MD until his health began to fail. He then began to volunteer with his wife at various civic organizations geared to support youth in his hometown and surrounding areas.
Eric was a fun loving, caring person, an awesome god father, dad, son, brother, friend, and an absolutely amazing pop pop, last but certainly not least he was a loving soul mate a witty, handsome, generous, and supportive husband.  He was compassionate, warm hearted and funny.  His open arms and loving spirit kept great company over to cook large meals or cook out on the grill with his special barbeque sauce he perfected from his Uncle Richard's unwritten and definitely not published recipe.  He enjoyed traveling, socializing with friends, cruising across the bay bridge, playing old school music as loud as he could get it to go, polishing and tinkering on his old school cars, and taking time out with his special little people Laylah White, Destiney Peyton, Torren Battle and Anesha "Poopie" Moses. Eric took great pride in spending every free moment with his grandchildren, Brionna "his noodle" and Lil Brandon.
Eric leaves cherished precious memories to his caring, devoted, loving, and supportive wife, Teina M. Fontaine-Veney; three sons, Brandon L. Harmon, Sr. (Charlisa) of Glen Burnie,  Ja'mar Hayward (Shelby) of Ocean City, MD and Rodney D. Johnson, II of Glen Burnie; two grandchildren, Brionna L. Harmon and Brandon L. Harmon, Jr. of Glen Burnie, his mother,  Martha A. Veney-Ward of Crisfield;  his stepmother, Linda Jones of Woodbridge, VA;  a mother-in-law, Gwendolyn V. Fontaine-Vinson (Allen) of Eden, MD; a father-in- law, Thomas J. Fontaine, Jr. of Marion Station, MD; three sisters, Mary Fontaine of Princess Anne, MD, Loretta Conwell (Pete) of Upper Darby, PA and Sadeeka Schoolfield Jones of Woodbridge, VA; two brothers, Kevin Styles (Valerie) of Marion Station, MD and Brian Veney (Shawanda) of Princess Anne; four sisters-in-law, Sharon L. Corbin-Spencer (Darian) of Salisbury, MD, Sheena Rayfield (Troy) of Pocomoke, MD, Tamia Fontaine (Aaron) of Princess Anne and Janae P. Fontaine of Salisbury; one brother-in-law, Jayme T. Fontaine of Marion Station; three godchildren, Layla White of Raleigh, NC, Destiney Peyton of Middle River, MD,  and Torren Battle of Glen Burnie; four aunts, Bessie Sterling of Crisfield, Annie Mae Jackson of Marion Station, Mary Collins of Salisbury, Henrietta Smith (Retired Sgt. Major George) of Harrisburg, PA;  two uncles, Robert Jones and Richard Maddox, both of Salisbury; three devoted childhood lifetime friends, (affectionately known as his 1st wives and mistress), Torris Battle of Glen Burnie; Thomas Peyton of Parkville, MD and Hezekiah Jackson of Baltimore; a host of many nephews, nieces, great nephews, great nieces, one great– great nephew and friends.
Eric was preceded in death by his father, E. James Jones; his stepfather, Thomas H. Ward, Sr.; two sisters, Karen "Peeza" Jones and Linda Jones Pittman; maternal and paternal grandparents;  several uncles, aunts and cousins.
Eric will be greatly missed for his personality, love of life and devotion to his family and friends.
A funeral service will be held 2 p.m. Saturday,  May 16, 2015 at Crisfield High School with a viewing one hour prior. pastor Pamela Polk-Ward will be the Eulogist.  A viewing will also be held 6 to 8 p.m. Friday, May 15, 2015 at Highway Holiness in Crisfield. Interment will be held in Mount Peer Cemetery in Marion Station.
4 Responses to "Eric Maurice Veney"