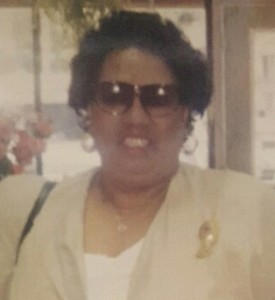 We celebrate our beloved mother, sister, aunt, grandmother, great grandmother, cousin and friend through scripture as Ecclesiastes 3:1 tells us "to everything there is a season, a time for every purpose under heaven".
A Time to be Born
Born February 4, 1942 to Amelia Ivella Waters Cannon and James Cannon on Bowland Hill, Wilma was raised in Philadelphia after her parents were united in marriage in 1943.  She was the first of seven children.
A Time to Learn
Wilma was educated in the Philadelphia Public Schools where she graduated from John Bartram High School.  She received her training to become a nurse from Devitt Homes, Inc. in Allentown, PA in June of 1969.  Wilma pursued Evangelist training as a member of Paradise Emmanuel Baptist Church and was an avid reader of spiritual books.
A Time to Work
Upon graduating from nursing school, Wilma was employed by the Allentown School District.  By the 1980's Wilma paved the way for what we now know as home health care.  She provided in-home skilled nursing care to seniors for the remainder of her career, which she retired from in 2010.
A Time to Plant
She had two sons Edwin Sydney Waters and Andrew Purnell Waters.  She raised her "boys" (as she always fondly called them) in Allentown, PA (the early years) and Philadelphia, PA (the later years).  Fondly known as "mom" to many, LaSana Reid (Sandy) is her daughter and was raised by Wilma from birth.  She planted seeds that have grown into young men and women that made her proud.
A Time to Love
On August 26, 1985 Wilma became Mrs. Ernest Barrow.  After many years of marriage, the couple separated and have remained friends over the years.
A Time to Choose God
Wilma accepted Jesus as her Lord and Savior long before she became a member of New Third Antioch Baptist Church.  In 1974, she would bring her children to Christ through baptism.  Seeking a closer walk with God, Wilma pursued Evangelist training through the Paradise Emmanuel Baptist Church where she was a member and an usher for many years.
A Time to Gather Stones; and A Time to Embrace
Family was important to Wilma.  She loved our Thanksgiving Dinners together.  She and the "boys" (Edwin and Andy) would come to Baltimore (and later to York) where we would give thanks for all the blessings that God had bestowed upon us.  For too many years to count, she would call her "baby sister" Marj-elaine (nickname that only Wilma could say) to say she was on her way to Baltimore. She would come to Baltimore just to share a meal, cook out on the grill or just to hang out.  Many times, she would bring friends from Philly to Baltimore and we became one family up and down the I-95 corridor.
Many Sunday's were spent being Nana as she surrounded herself with her children, grandchildren and good food.  They all loved her cakes and pies and more important just being at Nana's house captured the hearts and minds of each and every grand and great-grand child.
We celebrated her 70th birthday with a fabulous party that her "boys" gave her in Philadelphia 2012.  It gave her so much joy to have the whole family together. This was our family time and the impact that she had on all of us.
A Time for an Earthly Farewell
We celebrate the life of Wilma Catherine Waters Barrow who passed away peacefully on to her eternal sunrise, Saturday, September 23, 2017.  Left to celebrate her home going are her two sons, Edwin Waters and Andrew Waters; and her daughter, Sandy (Thomas Budd); her three sisters, Emma Cannon of Salisbury, MD, Amelia (Peggy) Cannon of Princess Anne, MD, Dr. Marjorie Miles (Tyrone) of Catonsville, MD and her brother, Granville (Bobby) Cannon of Princess Anne.  Also celebrating her home going are four grandchildren, (Edwin, Jr., Cidney, Lateefah, and Naimah) and eight great-grandchildren, (Christopher, Omar, Diva, Nyla, Karemah, Zaid, Sanai, Chawanda, and Edwin, III).
Wilma also leaves three nieces, (Fran Cropper, Karen Cannon, and Robin Kersey), six nephews, (Freddy Corbin, Terry Cannon, Keith Jackson, Kim Hall, Garth Cannon, and Justin Miles) and several great nieces and nephews.
Our beloved mother, sister, aunt, grandmother, great grandmother, cousin, and friend lived a full life that taught her and us many lessons, as she was the matriarch of our family.  She loved her family, beautiful clothes, cooking and feeding everyone who entered her house, and lastly, she loved having her nails manicured.
It was her wish that she be brought "home" to Bowland Hill, as it was her birthplace, so shall it be her resting place.  It was her wish to be placed in the John Wesley Cemetery with her mother (Amelia), her sister (Florence Vivien), her brother (Jimmy), and all her aunts and uncles who preceded her in death. It was her wish that her funeral services be held at Metropolitan United Methodist Church as it was the church where her mother married her father and the place where so many of our family members have been eulogized.
A funeral service will be held 11:00 Am Saturday, September 30, 2017 at Metropolitan United Methodist Church, 30522 Dr. William P. Hytche Boulevard, Princess Anne, Maryland.  With a viewing one hour prior.
Share a Memory or Thought