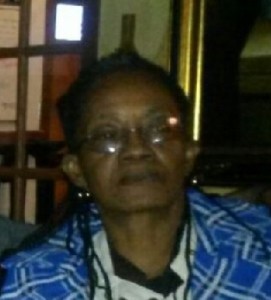 Sarah Elizabeth Smith, 61, of Princess Anne, Maryland, made her heavenly transition on Thursday, October 19, 2017 at her residence. Born August 13, 1956, she was the daughter of the late Walter Polk Smith and Maggie Robinson-Anderson.
She was educated in the Somerset County Schools and as a graduate of Washington High School. She later attended Delaware Technical College.
Sarah was introduced to Christ at an early age. In her youth she attended her family church, John Wesley, UMC Cottage Grove. She along with her sisters and cousins, was a member of The Voices of Cottage Grove. Most recently she was one of the charter members of The Eastgate School of Prophecy, under the pastoral leadership of Apostle Barbara Rose.
In March, she retired after 27 years of dedicated service, from Sherwin Williams (Rubberset) in Crisfield, MD.
In high school Sarah played basketball and remained an avid sports fan. Most recently, she got hooked on golf and she and her brother-in-law, Joe would spend hours watching golf and drinking coffee. Among her hobbies were "tinkering" in cars, fishing and crabbing. And like her mother she liked to have nice flowers outside of her house.
Last week Sarah told Barb and others that "God is going to do something great this week!" Those of us who know Christ, know He did just that…On Thursday, God cradled her in His loving arms and took her to her heavenly home with Him.
She leaves to cherish her memory with: one brother, Anthony Anderson; three sisters, Apostle Barbara Rose, Prophetess Brenda Isler (Josiah, Sr.) and A. Judi Marks (Reginald, Jr.); two aunts, Etta Holden and Catherine Smith; three special friends who were like sisters, Alona, Sandy and JoAnne; her newphew, Diyon and his wife Katie and daughter Destiny, who were like her children; and a host of nephews, nieces, other family and friends, all of whom she considered special.
A funeral service will be held 11:00 AM, Saturday, October 28, 2017, at Faith Christian Full Gospel Baptist Church, 500 E. Lincoln Avenue, Salisbury, Maryland with a viewing one hour prior. A viewing will also be held 6 to 8:00 PM Friday, October 27, 2017 at Anthony E. Ward, Jr. Funeral Home in Princess Anne. Interment will be in John Wesley (Cottage Grove) in Westover.
2 Responses to "Sarah Elizabeth Smith"
Share a Memory or Thought