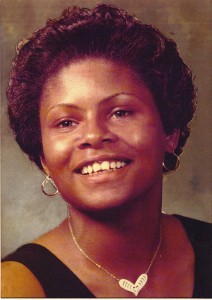 Rawley Ames, 54, blessed us with her presence on April 24, 1957 in Crisfield, Maryland and was called to home September 8, 2011 at Peninsula Regional Medical Center in Salisbury, Maryland.
Rawley attended and graduated in 1979 from Atlantic City High School in New Jersey, where she was a great basketball player. There weren't many people that could say they could beat her playing ball. Rawley was employed at Metompkin Bay Seafood in Crisfield, Maryland where she worked faithfully for years until she became ill.
To know Rawley was to love her. There was no way you could say her name without a smile or laugh to follow. The name she loved the most was "Green Eyes" and she loved it even more when her brother Billy said it.
She recently took up gardening and was proud of her tomato plant that was growing; and how can we forget how much she loved basketball and crabbing.  Rawley was known and loved by many and will be sadly and deeply missed by many.
Rawley leaves to cherish her memories, her life long and dedicated companion, Terry Purnell of Princess Anne, Maryland, whom she loved very much; a spiritual mother,  Ms. Ella Leatherbury of Princess Anne, Maryland; two sisters: Jimmie Faye Ames of Covington, Georgia and Lahomia Ames of Baltimore, Maryland; two brothers; William (Jackie) Ames  and Terry (Lavern) Ames of Pleasantville, New Jersey; two spiritual sisters, Kim Purnell of Salisbury, Maryland and Peggy Bess of  Princess Anne, Maryland; her loving cat "Smoky"; her three best friends,  Shelia Ames, Angie Stewart (Jones) and  Ruth Schoolfield of Crisfield, Maryland; and a host of nieces, nephews, cousins, friends, other relatives and many good friends.
Rawley was preceded in death by her father James "Baby Jim" Ames; her mother Mary ("Annie") Ames; two brothers,  Tony and Teddy Ames; and her uncle William Ames.
A funeral service will be held 3 p.m. Sunday, September 18, 2011 at the funeral home in Princess Anne, Maryland, where friends may call one hour prior.  Friends may also call 6 to 8 p.m., Saturday, September 17, 2011 at the funeral home in Crisfield, Maryland.  Interment services will be held privately.
One Response to "Rawley Ames"
Share a Memory or Thought