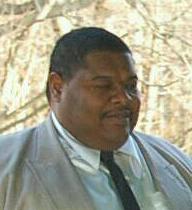 Claudius "Joe Boy" Moses, Sr. was born on July 8, 1956 in Salisbury, Maryland to Lottie A. Moses and the late Ralph E. Moses, Sr.  Claudius departed this life on Friday, May 25, 2012 at Bay Health Medical Center in Dover, Delaware.
Joe Boy, "Jodi" as he was affectionately known by family and friends, was educated in the Somerset County Public School System. He went on to further his education at the University of Maryland Eastern Shore. He was known as a jack of all trades.
Joe Boy began his Christian walk at St. Mary's Missionary Baptist Church in Princess Anne, Maryland at an early age.  He attended Greater Love Temple, Milford, Delaware.   In 1986, he met and married Carrie Clark and from this union four children were born.
Joe Boy was the family comedian and no one could mark Donald Duck like him. He loved baseball, fishing and throughout all of Delaware he was known as the "Million Dollar Man."
Claudius leaves to cherish fond memories with his wife of 26 years, Carrie Moses; four daughters; Elisha Moses, Shayla Moses, LaTeeshe Moses and Claudia Moses; one son, Claudius Moses, Jr.; his mother, Lottie A. Moses; four sisters, Patricia Moses, Virginia (Marshall) Corbin, Brenda (Runcie) Dale and Victoria (Kevin) Handy;  two brothers, Ralph (Ophelia) Moses, Jr. and Timothy Moses;  his mother-in-law, Beulah Clark; one-sister-law, Rena Clark; four brothers-in-law; Roger Clark, Walter Clark, Phillip Clark and Willie (Jane) Clark; three grandchildren; and Kerria Ward, Alajai Booth and Ean Kable.  A best friend, Anthony Walker and a host of aunts, uncles, nieces, nephews, and other relatives and friends.
He was preceded in death by his father Ralph Ealie Moses, Sr. and a nephew, Ralph Ealie Moses, III.
A funeral service will be held 1 p.m. Saturday, June 2, 2012 at Mt. Carmel Baptist Church in Princess Anne, Maryland where friends may call two hours prior.  Friends may also call Friday, June 1, 2012 at the funeral home in Princess Anne from 6 to 8 p.m. Interment will be at St. Mary's Missionary Baptist Church Cemetery.
Share a Memory or Thought