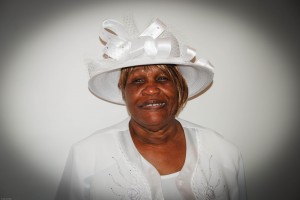 Rachel Marie Collins, 76, of Crisfield, Maryland, departed this life on Sunday, March 24, 2013 at Peninsula Regional Medical Center in Salisbury, Maryland. Born July 21,1936 in Marion Station, Maryland she was the daughter of the late Adele and Albert George Cottman.  She was one of 17 children.
She received her education in the Somerset County Public School system and was employed for many years as a seafood worker.  Rachel was joined in Holy Matrimony with the late Ralph Otto Collins and from this union, 12 children were born.
Rachel received Christ as her personal Savior in 1966, under the spiritual guidance of Apostle Margaret Johnson and the late Pastor Mary Lane.  She became a public icon and her presence could be felt in any church that she visited.  You would know she was in the building by her shouts of, "Hallelujah, Thank you Jesus!"  Rachel became an Evangelist and the second "Mother" of Enon Baptist Church.  Her hands were anointed with the gift of healing and her prayers were requested by many.
Rachel enjoyed spending time with family and friends, but most importantly she loved attending church.  In addition to her love for church, she was also known by her hobbies that included, cooking her famous homemade yeast rolls, chicken and dumplings, shopping and traveling.  She also enjoyed caring for her grandchildren and great-grandchildren.
She was preceded in death by nine siblings, five of her children and two grandchildren.
Rachel leaves to cherish her loving and prayerful memories to her seven children, Gloria Ward (Darryl), Deborah Brown, Anthony M. Collins, James Thomas Collins (Joyce), Sheri Pollard (Johnnie), Vesta Scotland, and  Bess Collins; 21 grandchildren; a host of great-grandchildren; one brother, Joshua Cottman; six sisters, Louise, Annie, Naomi, Rose, Jeannie, and Lisa; and a host of nieces, nephews, and friends.
A funeral service will be held 1 p.m. Saturday April 6,2013 at John Wesley United Methodist Church in Marion Station, Maryland where friends may call two hours prior. The Reverend Lucille Nichols will be the Eulogist.  Friends may also call Friday evening, April 5, 2013 from 6-8 p.m. at St. Paul A.M.E. Church in Crisfield, Maryland.  Interment will be at Mt. Peer U.M.C Cemetery in Marion Station.
One Response to "Rachel M. Collins"
Share a Memory or Thought