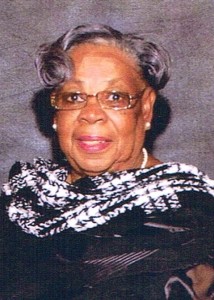 Gladys Ruth Campbell, daughter of the late William Sr. and Hilda Campbell departed this life on Friday, December 6, 2013 at her home.
Gladys was born in Lewisetta, Virginia. The family moved to Grasonville, Maryland where she was reared. Gladys was educated in Queens Anne County School System.  In later years the family moved to Crisfield, MD.  Before coming to Crisfield, Gladys was employed with Mt. Sinai Hospital in Baltimore. We loved her stories about her breakfast mornings with Dr. Ben Carson.
Upon moving to Crisfield, Gladys and her family joined St. Paul A.M.E Church; in later years she attended Shiloh United Methodist Church where she was a member of the "Cane Associates" and the "Guiding Lights Gospel Choir". She was known as the song bird of the community, to some she was the Mahalia Jackson of the shore and Lighthouse to the lives of everyone she touched, she would sang   everywhere.
Gladys was employed in the seafood industry for many years and was employed with Anthony E. Ward Funeral Home for over 35 years. She was a person of many talents. She was a seamstress and sewed for everybody.
Gladys knew everybody from sea to shore and accepted everyone the way they were. She was the backbone of her family and loved her family. One thing about Gladys when she talked to you, she kept it real and was very down to earth, she would always keep you laughing.
Her grandchildren and great grandchildren loved her. It was  often thought she spent more money on Pepsi's for her grandchildren, nieces and nephews and the neighborhood children than she did on groceries, because if one of the children came to her home and there were no Pepsi, this was not supposed to be, so she kept the Pepsi  supply on hand at all times.
She leaves to cherish fond memories with: three daughters, LaVerne Johnson and Sheri Campbell, both of Crisfield and Jamie Coston (Ernest) of Princess Anne; one adopted daughter, Yolanda Mitchell (Kevin) of Princess Anne; one brother, Harvey Campbell of Grasonville, MD; one sister, Betty Cottman of North East, GA; 35 grandchildren; 32 great grandchildren; eight great-great children, several nephews, nieces; three special nieces, Ava Campbell, Venetia "Cheryl" Jackson (Rodney) and Jean Campbell, all of Crisfield; two very special nephews, William Campbell Jr. of Baltimore, MD and Ronald Campbell of Crisfield; a very devoted cousin, John Clark of Salisbury; she also leaves to mourn her loss a devoted companion of many years, Timothy Fryer; two special family friends, Joyce Keating and Carolyn Weatherbe (Grover), both of Crisfield; a family friend, Sylvanus Ward; and many other relatives and friends.
Gladys was preceded in death by two children, John Foreman, Jr. and Tracey Campbell; two brothers, Herman and William Campbell; three sisters, Mable, Florence and Diane Campbell, one grandchild, Javon Brown and one great grandchild, Ke'Vaughn Armwood.
A funeral service will be held  11 AM, Saturday December 14, 2013 at Crisfield High School, with a viewing one hour prior.  Rev. Bess McCallister will be the Eulogist. A viewing will also be held 6-8 PM, Friday, December 13, 2013 at St. Paul A.M.E. Church in Crisfield. Interment Mt. Peer Cemetery, in Marion Station, MD.
One Response to "Gladys Ruth Campbell"
Share a Memory or Thought