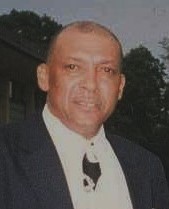 Herdius Lafayette Evans, Sr. went home to be with his Lord and Savior on January 30, 2014. Herdius accepted Jesus as his personal Savior at an early age. He was born on October 4, 1939 to the late William T. Evans, Sr. and Octavia Corbin Evans.
Herdius (Poochie, Big Pimp as he was affectionately called) was born into a loving Christian family and was educated in the Public School System of Somerset County Maryland. Poochie lived most of his adult life in Boston, Massachusetts where he worked several industrial jobs. He returned to Maryland to live in 2003 and retired from the University of Maryland Eastern Shore in 2013. Poochie lived a fun and loving life for his children and his family.
Herdius leaves to cherish fond memories six children, Valerie Jones (James Sr.) of Boston, Massachusetts, Maurice Evans, Sr. of Marion, Maryland, Stephanie Evans (Timothy) of Princess Anne, Maryland, Michele Evans (Eddie) and Herdius Evans, Jr.,  both of Boston, Massachusetts, and Camille Evans of Crisfield, Maryland; ten grandchildren, James Jr., Marlene and Takeya Jones, Maurice Jr., Kyreese and Chekyii Evans, Diondra Benders, Ashara Smothers and David Evans of Boston, Massachusetts and Londale Evans of Salisbury, Maryland; fourteen great-grandchildren; his beloved and devoted sister, Clementine Evans-Spence of Marion, Maryland; three sisters-in-law, Virginian Evans and Glenda Evans of Marion, Maryland, and Judy Evans of Boston, Massachusetts; and a host of nieces, nephews, cousins, friends and extended family and a very special friend, Alice Brissett of Crisfield, Maryland.
In addition to his parents, he was preceded in death by his wife, Marlene Sheffield Evans; two sons, Tyrone and Mark Evans; five brothers, Henry Kenny, William Jr., George Sr., Samuel Sr., and Anthony Evans Sr.; three sisters, Agatha, Susie and Emma Evans.
A Funeral Service will be held 1 PM, Saturday, February 8, 2014 at Handy United Methodist Church in Marion Station, with a viewing two hours prior, the officiating pastor will be the Rev. William Miles.  A viewing will also be held 6-8 PM, Friday, February 7, 2014, at the Church. Interment will be at the Mt. Peer United Methodist Church Cemetery in Marion.
One Response to "Herdius Lafayette "Poochie" Evans, Sr."
Share a Memory or Thought