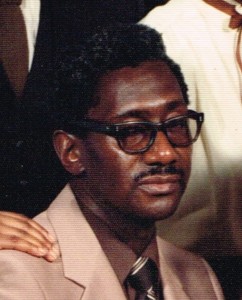 Minister James Willie Lake, Jr., 77 of Crisfield, Maryland, was born on August 19, 1936.  He was the son of the late James Willie Lake, Sr. of Preston, Maryland and Sarah Hannah King, of Marion Station, Maryland.  Minister James Lake, Jr. was called home to be with the Lord on Thursday, April 17, 2014 at Peninsula Regional Medical Center in Salisbury.
II Corinthians 5:8 – We are confident, I say, and willing to be absent from the body, and to be present with the Lord."
James Lake worked various jobs in Crisfield, Maryland.  One of his first jobs was working at Mrs. Paul's Kitchen around 1954.  In the early 1960's he began working on pipelines, sewer plants and water manes; along with operating snow plows for the City of Crisfield.  He worked for the Somerset County Board of Education for 33 years.  In addition, he worked for Lawson Laundromat and the First Baptist Church in the City of Crisfield.  He was a hardworking man and worked until he became ill then retired in 2002.
In 1967, James Lake accepted his call into the ministry and then began preaching.  In one of his greatest testimonies he often spoke of his experience with God telling him to, "Go tell Pharaoh, to let my People Go." During his call, he was anointed to lay hands on the sick for them to be healed.
In 1956, James married Alberta Williams and nine children were born from this union.  One of James favorite hobbies was working on his automobile.  He also loved westerns and biblical movies as well as listening to gospel hymns.  Amongst his immediate family, James was known by the nicknames, Junie or Jimmy
He leaves to cherish his memories, his wife, Alberta W. Lake of Delmar, DE; his children, Lenore Waters (Les) of Eden, MD, James W. Lake, III (Marsha), Minister David Lake (Della), Timothy Lake (Faye), Shawntae White (Jackie), all of Salisbury, MD, Michael Lake (Leslie), Daniel Lake (Beverly), all of Delmar, MD, James Samuel Lake of Willards, MD and Evon Lake of New Castle, DE; his sisters, Alicia Fosque-Whittington of Crisfield and Senior Pastor, Elsie Lee-Lake Collier; brother-in-law, Bishop William Collier, Sr. of Crisfield, MD; his brothers, Edward Roger Lake, Sr. (Jane), Ronald Fosque and Donald Smith; his grandchildren, James W. Lake, IV, Lakeisha Lake, Monica Lake, Dinah Lake, Janell Wedge, Joy Wedge, Tim Lake, Rynisha Lake, Tasha Lake, Sherese Lake, Tynisha Taylor, Rochelle Taylor, Desmond Lake, Quincy Lake, Jenaya Lake, Daniel Lake, Jr., Joshua Lake, Marquel Sheppard, Jalen White, Keoshia Johnson, Ryan Bailey, Shamir Stevenson, Rodney Stevenson, Tyler Swift, Charon Sterling, eight great grandchildren and a host of nephews nieces, cousins and friends.
In addition to his parents, preceding him in death are his paternal grandparents, Walter Lake and Nettie Pender, both of Preston, MD; his maternal grandparents, Roger King and Fannie Hickman-King, both of Marion, MD; his sister, Laverne Fosque-Sterling; his brother, Sam Hickman; his nephew, James "Jimmy" Whittington, Jr.; two grandchildren, Denise Lake and Jordan White; six aunts and four uncles.
Minister James Lake will be remembered and greatly missed for his love for God and his dedication and commitment to his family.
St. John 14 – "Let not your heart be troubled, ye believe in God believe also in me.  In my fathers house are many mansion…"
A funeral service will be held  1 PM, Saturday, April 26, 2014 at Highway Holiness in Crisfield, MD, with a viewing two hours prior.  Bishop George S. Jackson, Sr.  will be the Eulogist. A viewing will also be held 1-6 PM, Friday, April 25, 2014 at the Funeral Home in Princess Anne.  Interment will be in John Wesley U.M.C. (Bowland Hill) Cemetery, in Princess Anne.
8 Responses to "James W. Lake, Jr."
Share a Memory or Thought