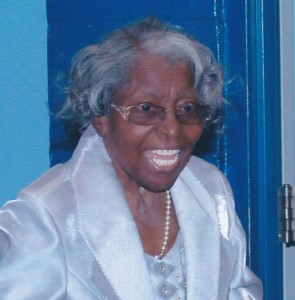 Cora Alletha Handy-Ward, 96, of Marion Station, Maryland, transitioned this life on Saturday, February 28, 2015 at Salisbury Nursing and Rehabilitation Center. Born June 21, 1918 she was the daughter of the late John T. and Cora Fitchett-Handy.
She leaves to cherish fond memories:  two sons, James Ward (Aretta) of Marion Station, Maryland and Harmie J. Ward (Clara) of Baltimore, Maryland; one daughter, Shirley Ward- Potter of Pikesville, Maryland; eight grandchildren; twenty-one great grandchildren; nine great great grandchildren; one sister, Alva Bell of Georgetown, Delaware; one sister in-law, Antoinette Handy of Lewes, Delaware, and a host of nephews, nieces, and other relatives.
In addition to her parents, she was preceded in death by her husband, Harmie J. Ward; two brothers, John and Robert Handy; two sisters, Lois and Esther Whittington.
A funeral service will be held 1 p.m. Saturday, March 7, 2015 at Handy United Methodist Church in Marion Station with a viewing one hour prior.  Pastor William Miles will be the Eulogist.  Interment will be held in Mt. Peer U.M.C Cemetery in Marion Station.
One Response to "Cora A. Ward"
Share a Memory or Thought