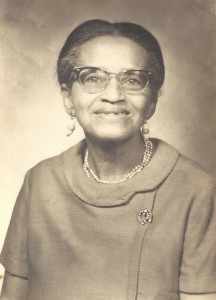 Ethel Mae Pollitt, 99,  of Princess Anne, departed this earthly life on Thursday, May 14, 2015 at her residence. Born March 28, 1916 in Catonsville, Maryland, she was the daughter of the late George and Ethel White.
She leaves to cherish fond memories with one daughter, Mafalda Fontaine-Anderson (Carl, Jr.); eleven grandchildren, Cornelius, Kenneth, Robin, Lisa and Jacqueline Fontaine, Sheri Moss, Sandy Pollitt, Stephen Miller, Kim Duncan, Rochelle Duncan-Baylor and George Duncan; several great grandchildren and great great grandchildren; and a host of other relatives and friends.
In addition to her parents, she was preceded in death by her husband, James Pollitt; one daughter Sylvia Pollitt-Duncan; and one grandson, Daniel Fontaine.
A wake and visitation service will be held 6 to 8 p.m., Friday, May 22, 2015 at Anthony E. Ward, Jr. Funeral Home in Princess Anne.  A graveside service will be held 10 a.m. Saturday at John Wesley (Bowland Hill) Cemetery in Princess Anne.
2 Responses to "Ethel Mae Pollitt"
Share a Memory or Thought