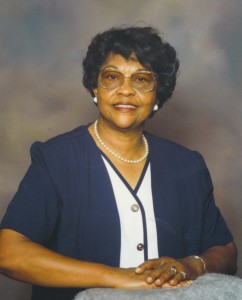 Fannie Elizabeth Harris-Parker departed this life Monday, January 4, 2016, at St. Anthony's Community Hospital, in Warwick, N.Y. was born on December 8, 1933, in Attapulgus, Georgia.  She was the daughter of the late Willie and Rosebud Adams-Harris.  The Harris Family moved to Somerset County, MD, where Fannie received her education in the public school system.
Reared in a family whose lives were dedicated to serving our risen Savior, she accepted Christ into her life at an early age.  She grew up in the St. Paul Methodist Church in Revels Neck, Westover, MD.
She was joined in Holy Matrimony on October 19, 1952 to the late William A. Parker.  They relocated to Paterson, NJ where Fannie attended the Charm Beauty Academy in Newark, NJ and became a licensed beautician.
Fannie returned to Somerset County where she was the owner/operator of the Classic Coiffure Beauty Shop in Princess Anne for 35 years before her retirement.  She loved her craft as a beautician and many friendships were formed between wash, set and dry or straightening comb and curling irons.
As a faithful member of St. Andrews United Methodist Church she served in various capacities which included, Sunday School teacher, and Lay Speaker. She served as a member of the United Methodist Women, Communion Steward Chairperson and Administrative Board Chair.  Again, Fannie enjoyed true friendship and fellowship among the congregants.
Fannie often reminisced of her childhood adventures; her first train ride from Georgia to Florida as a little girl, her favorite "old bald headed doll baby," her chores, but counted her baptism in the Jordan River on a trip to the Holy Land, with two of her sisters, the most memorable.
Fannie lived the message of the Harris family motto:  "A Family That Prays Together, Stays Together." She hosted the very first annual Harris Family Reunion in 1976.  She loved attending family reunions and would never miss an opportunity to take photos with family members.  She would often say "while we're growing up, both morally and spiritually, always do your best to bring a family member along in the journey. "
She leaves to cherish her memory:  eight children, Delphine Steficek of Vernon, NJ, Carlton Parker, Dylan Parker, and Thaddeus Parker of Paterson NJ, Todd Parker, of Austin, TX, Brian Parker and Dale Parker of Princess Anne, MD, and Dean Parker of Alexandria, VA.  Affectionately known as "Nana," she leaves fifteen grandchildren and seven great grandchildren.  Also to cherish her memory are; three sisters, Otha Lee Collier, Thelma Scott and her husband, Elder Earl of Fruitland, MD, and Janie Johnson of Manokin, MD; two brothers, John Harris and his wife, Cynthia of Paterson, NJ and Elder Lee Harris and his wife, Betty of Jacksonville, FL and a host of nephews, nieces, and friends from the Senior's Center.
In addition to her parents, she was preceded in death by one daughter, Paula Parker, two sisters, Frances Harris, and Dollie Avent, and two brothers, Leonard and James Harris.
Funeral services will be held Saturday, January 16, 2016 at 12:00 p.m. at St. Andrews United Methodist Church, Upper Hill, MD with a viewing one hour prior.  Interment will be at Centennial Cemetery in Fairmount.
In lieu of flowers, the family requests that memorial donations may be made to the Centennial Cemetery Maintenance Fund.
8 Responses to "Fannie Elizabeth Parker"
Share a Memory or Thought