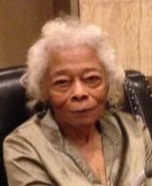 Mary Elizabeth Hayman, 94, of Salisbury,  MD formerly of Manokin, MD made her heavenly transition on Friday, February 5, 2016 at Deer's Head Hospital Center in Salisbury.
REFLECTIONS OF LIFE
To everything there is a season and a time for every purpose under the heavens (Ecc. 3:1)
Mary's Affirmation "Every shut eye ain't sleep and every goodbye ain't gone. Stay focused on your goal and keep the door open to opportunity."
A Time to Be Born
Mary Elizabeth Beauchamp, the oldest of three children was born in Manokin, Maryland on July 30, 1921, to the late Olandis Russell Beauchamp and Bertha Miles Beauchamp.
A Time to Build Up
Mary affectionately known as "Mom" grew up in Manokin, Maryland. She was reared in a hardworking and loving family. Mary and her siblings, Edward and David, were nurtured by loving parents who loved the Lord and believed that a life of hard work, love, and dedication would yield a bountiful harvest. Mary was educated in the Somerset County Public Schools. Upon graduation at the age of 15, she attended Princess Anne College where she studied music and sang on the local radio station. She continued her musical studies at the Settlement School of Music in Philadelphia, Pa. It was there that she trained in Operatic voice to become a member of the Philadelphia Liturgical Society. Mary toured nationally as an opera singer sharing the stage with musical greats including the late Marian Anderson. At an early age, Mary accepted Jesus Christ as her personal savior and remained a faithful servant until her death. Mom was quietly strong and unwavering in her daily walk; no loud proclamation, simply a soft whisper of obedience to God's will.
A Time for Every Purpose under the Heavens
Mary's strong work ethic led to a long career as a licensed practical nurse. Upon retiring from Germantown Hospital in Philadelphia, Pennsylvania, Mary continued her blessing and gifts as a caretaker for her uncle in Washington, D.C., many private duty patients, and later her grandchildren and great grandchildren. She was a proud member for many years of Starlight Chapter 44 of the Order of the Eastern Star and also of Camper Club Eighty-five.
A Time for Marriage
Mary was married to the late Joseph J.W. Hayman in 1939. To this union was born one daughter, Baola M. Hayman and one son Joseph O.W. Hayman. Mary and Joseph made Manokin their home and business residence for more than sixty years.
A Time to Laugh
Mary loved to hear a good joke or funny story that would bring her joy, smiles and laughter. Her laughter and her beautiful smile will never be forgotten.
A Time to Mourn
Mourning her loss yet rejoicing in her purposeful life are her survivors: Baola M. (James) Gould and son Joseph O.W. Hayman, Sr., daughter-in-law Deborah Hayman, grandchildren, James H. F. (Patricia) Gould, Bereatha E. (Ronald) Jackson, Mary A.B. (Darrell) Gordon, Joseph O.W. Hayman Jr., Imani N. Hayman, and Jaye J. Hayman; great-grandchildren Patrice R. Gould, Elliot J. (Bianca) Gould, Eric F. Gould, Michael James Reed-Gordon, Niyah S. Jackson, Niles A. Jackson, Joseph O.W. Hayman III, Josiah Hayman, and Myah Hayward; and one great-great granddaughter Adalynne Santiago. She is also survived by many loving family members: brothers-in-law, James Hayman (Nellie) and Eldon Hayman (Mary); cousins June Beaver, Ellen Holloman, and Bill Williams; devoted friends Alice Collins, Evelyn Horsey, Carolyn Jones, Estella Stackhouse, and Jeanette Waters; and a host of nieces and nephews. Preceding her in death are her parents, Olandis and Bertha Beauchamp, her husband Joseph J. W. Hayman, brothers Edward and David Beauchamp, sister-in-law Naomi Beauchamp, and cousin Doris Beaver.
A funeral service will be held 11 AM Friday, February 12, 2016 at Mt. Zion United Methodist Church, 6101 Quantico Road, Quantico, MD with a viewing two hours prior. Interment will be in Samuel Wesley U.M.C. Cemetery in Manokin.
2 Responses to "Mary Elizabeth Hayman"
Share a Memory or Thought