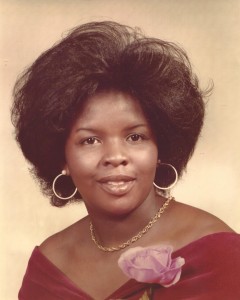 Myrna D. "Mickey" Lankford-Campbell, was born December 12, 1955 in Crisfield, Maryland. She departed this life on Friday, June 23, 2017 at the University of Maryland Baltimore Washington Medical Center in Glen Burnie, Maryland. She was the daughter of Patricia Lankford-Douglas and the late Richard E. Milbourne.
Mickey graduated from Crisfield High School in May 1973.  She attended Morgan State University, where she graduated with honors and a bachelor's degree in Business Education in 1977.  She was employed at Baltimore City Hospital for 12 years, and later became employed with the United States Postal Service in January 1989 where she retired in December 2011.  After retirement she became a substitute teacher until her health failed.
She joined St. Paul A.M.E. Church at an early age under the leadership of Rev. Richards and Mrs. Vivian Richards.  Whenever she came to Crisfield, she would go to church and usually sing a solo.
"Chumpsy" was always the light of Mickey's life. They were married on April 23, 1984.  They had two wonderful children and one grandson.
Mickey's family was her greatest concern.  She always wanted the family to be on the same page, with love for each other.  "Boss" was the name she got from her family.  She said that she was not bossy, but she had better ideas.
Myrna was a faithful member of the Eastern Stars and Alpha Kappa Alpha Sorority, Inc. (AKA).  She loved to sing, look at television and loved to shop. "Boss" would take charge if she thought she needed to.
Myrna D. was a loving wife, mother, sister, daughter, aunt, grandmother, co-worker, niece and friend.
She leaves fond memories with her devoted husband, William C. Campbell III, one son, William C. Campbell IV, one daughter, Marquita Wilson (Terence), her mother, Patricia Lankford-Douglas; one grandson, Trevor Wilson, five brothers, William (Renae), Ivan and Pete Lankford, Richard (Iris) and Roland Waters, four sisters, Vanessa Jones, Shalinda Taylor (Robert), Tina Waters and Bonnie Douglas; three uncles, Gilbert Milbourne (Addie), Alexander Whittington and Joseph Ward; one aunt, Romenia Douglas (Burnzie, Jr.) her mother-in-law, Marguerite Young (Melvin), three brothers-in-law; four sisters-in-law; and several nephews, nieces, cousins and friends.
A funeral service will be held 3:00 PM Saturday, July 1, 2017 at Saint Paul A.M.E. Church in Crisfield with a viewing two hours prior. Interment will be held 2:00 PM Monday July 3, 2017 at the Eastern Shore Veterans Cemetery in Hurlock.
3 Responses to "Myrna D. Campbell"
Share a Memory or Thought